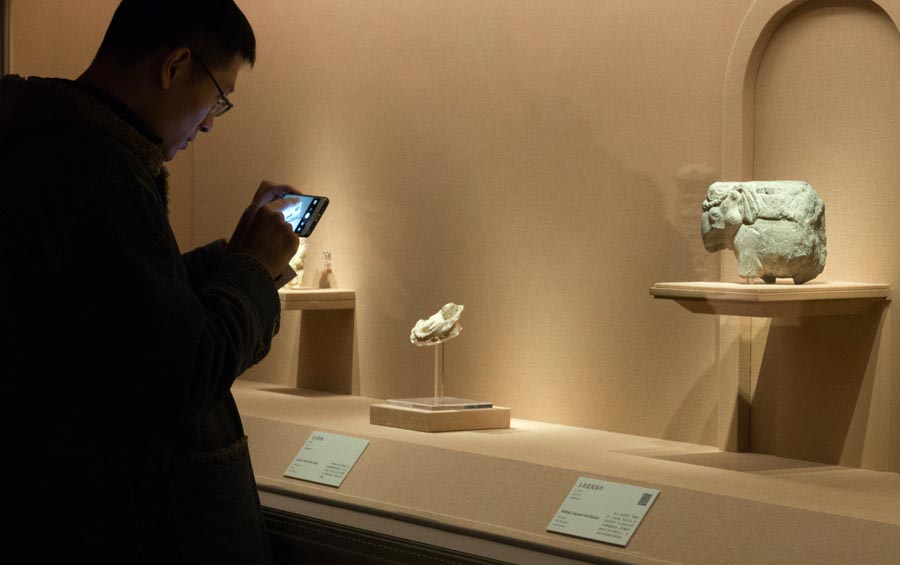 An exhibition about the Kushan Dynasty in Shanghai shows artifacts, including coins, a statue of a gongyangren (a Buddhist), a wooden caving of two birds and a stone relief, depicting devotees around the Buddha. [PHOTO BY GAO ERQIANG/CHINA DAILY]
The Hindu deity Siva was portrayed on the backs of the coins.
"The currency helped the dynasty to be accepted by newly conquered territories and played an active part in the expansion of the empire," says Wang.
Among the sculptures on display is a Buddha sitting in a hall decorated with Corinthian columns on either side.
"The exquisite piece presented a Buddhist sermon alongside a symbol of Greek architecture and achieved wonderful harmony," says Wang.
Contact the writer at zhangkun@chinadaily.com.cn
If you go
Crossroads: The Beliefs and Arts of the Kushan Dynasty 9 am-5 pm, Tue-Sun, through March 18. Shanghai Museum, No 3 exhibition hall, 4F, 201 Renmin Dadao, Huangpu district, Shanghai. 021-6372-3500.