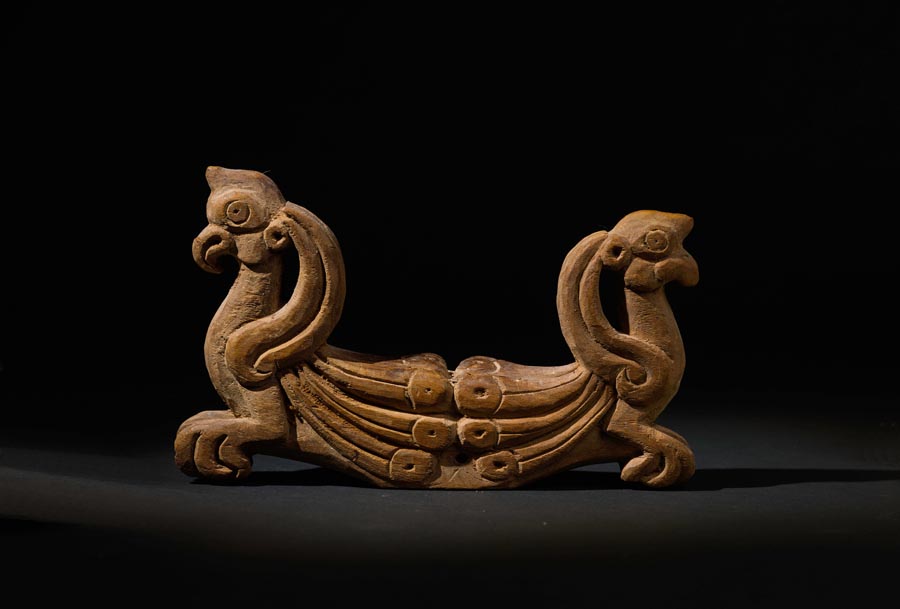 An exhibition about the Kushan Dynasty in Shanghai shows artifacts, including coins, a statue of a gongyangren (a Buddhist), a wooden caving of two birds and a stone relief, depicting devotees around the Buddha. [PHOTO BY GAO ERQIANG/CHINA DAILY]
In the past few years, there has been growing public interest in the Silk Road in the countries involved in the Belt and Road Initiative. 
So, the museum is focusing on the subject from this aspect by showcasing this openness and tolerance, the cultural essence of the Silk Road, says Yang.
In its contribution, the Shanghai Museum features 12 Kushan coins from its collection, largely boosted by the continued support from Du Weishan, the youngest son of Du Yuesheng, an eminent tycoon and mafia leader in 1930s' Shanghai, says Wang.
The coins on display are different from ancient Chinese coins made through casting. Kushan-era coins were made from repeated hammering, following the practice of ancient Greece and Rome.
While the earliest coins have the king's profile on them-just like Roman coins-a distinctive "Kushan style" gradually emerged, featuring a full-length portrait of the king wearing a Kushan-style high crown, holding a scepter in one hand, and pointing at an altar with the other.