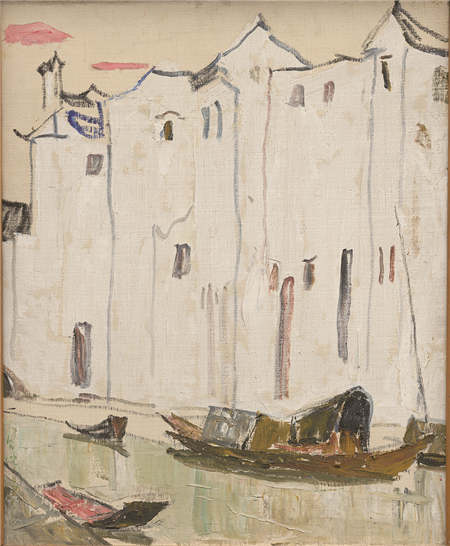 Oil paintings by late artist Luo Erchun are among more than 30 pieces on show at Echoes of Canglang, an exhibition at Beijing's Shixiang Gallery. [Photo provided to China Daily]
"The large area of red comes from his childhood memories of the blood red soil of his hometown. He said the land was reddened even more after the rain."
The only ink-brush painting on show is a 14-meter-long scroll, titled One Hundred Chickens, which Luo painted in 2008.
The calligraphic title was written by Huang Miaozi (1913-2012), a renowned artist and writer, when he was 98.
Li says Luo liked the painting very much and he later understood why after he traveled to Luo's native village in Hunan province.
"At his ancestral house I saw chickens all over the field. That scene was like what he depicted in the painting," says Li. "His paintings were his life."
Zhan Jianjun, 86, an oil painter, longtime friend and colleague of Luo, shared a studio with him at the Central Academy of Fine Arts for several years.
Zhan says that Luo was mostly quiet and sometimes restrained, and therefore people would be surprised by the impassioned, vigorous style of his paintings.
"The eruption of energy in his art seemingly contrasts with his appearance. For people who didn't know him well, he was a man who didn't talk much," says Zhan.