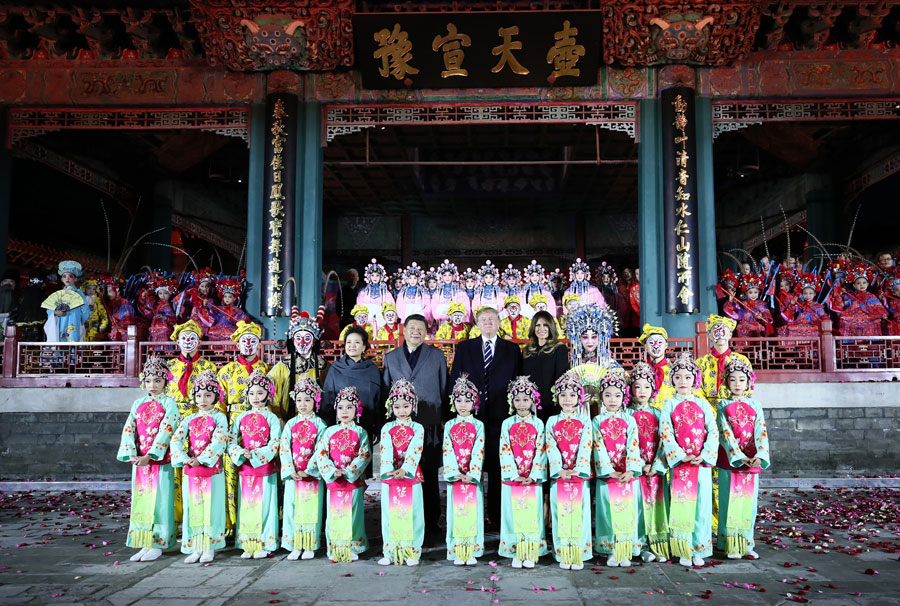 Chinese President Xi Jinping and his wife Peng Liyuan, and US President Donald Trump and his wife Melania Trump pose for a photo with performers after watching a Peking Opera performance at the Palace Museum, or the Forbidden City, in Beijing, capital of China, Nov 8, 2017. [Photo/Xinhua]
Xi and Trump watch Peking Opera
The two presidential couples watched a Peking Opera performance at the Palace Museum's Pavilion of Cheerful Melodies on Wednesday.
Actors performed scenes from three classic operas, including Meihouwang (The Monkey King), which features stunning action sequences, and Guifei Zuijiu (The Tipsy Beauty), known for its beautiful dances.
The Monkey King is the main character in the 16th-century Chinese classical novel Journey to the West. After rebelling against Heaven and being imprisoned under a mountain by Buddha, Sun Wukong, or the Monkey King, later accompanies the monk Xuanzang on a journey to fetch Buddhist sutras from "the West".
The Tipsy Beauty is a classic Peking Opera that depicts Yang Yuhuan, a beloved concubine of Emperor Xuanzong of the Tang Dynasty (618-907), who danced with beautiful steps after getting drunk.