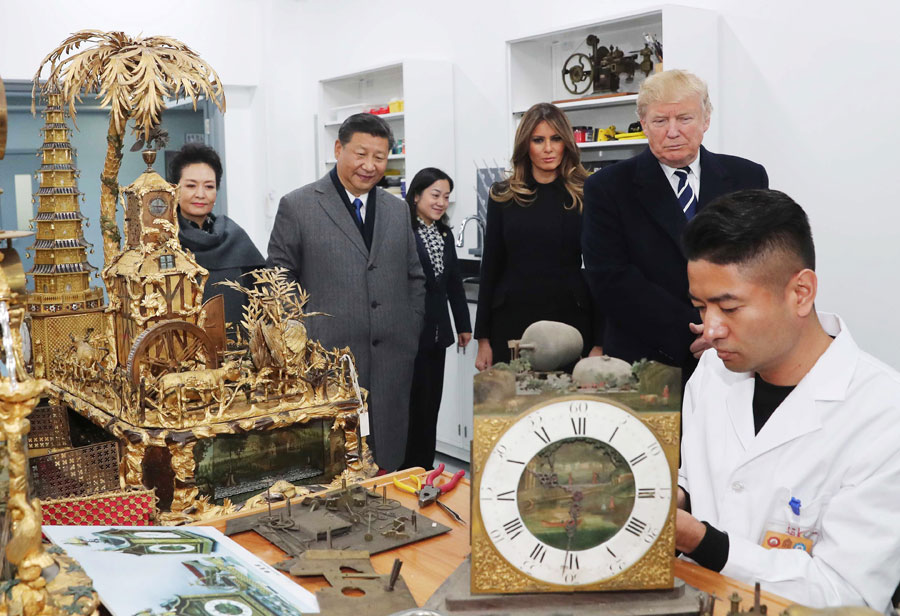 Chinese President Xi Jinping (2nd left) and his wife Peng Liyuan (1st left), and US President Donald Trump (2nd right) and his wife Melania Trump (3rd right) watch the repair of some historical relics at the conservation workshop of the Palace Museum in Beijing, capital of China, Nov 8, 2017. [Photo/Xinhua]
Presidents watch repairing of relics
The presidential couples visited the Cultural Relics Hospital at the Palace Museum and watched craftsmen repair historical relics there.
Workers demonstrated their skills in restoring damaged ancient artifacts including clocks, wooden items, metal containers, pottery, textiles, calligraphy and paintings.
The two presidents tried their hand at repairing a relic facsimile and saw an exhibition of treasury relics.
They spoke highly of the enhanced cooperation between China and the US on repairing cultural relics.
The facility, built in 2016, has a training center for the International Institute for Conservation of Historic and Artistic Works to train experts in preserving and protecting Chinese relics.