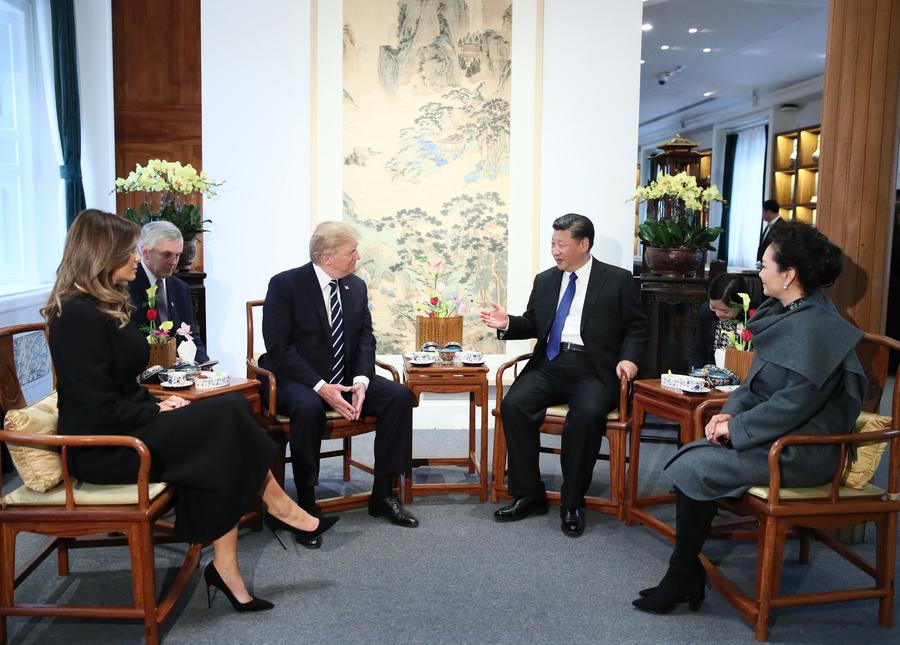 Chinese President Xi Jinping and his wife Peng Liyuan meet for tea with visiting US President Donald Trump and his wife Melania in Beijing's Palace Museum, Nov 8, 2017. [Photo/Xinhua] 
Trump shows video of granddaughter
Xi welcomed his US counterpart and thanked the entire Trump family for the warm reception he received at the Mar-a-Lago resort in Palm Beach, Florida, in April.
Trump showed Xi and Peng a video of his granddaughter, Arabella, reciting Sanzijing (Three Character Classic) and ancient Chinese poetry. Xi complimented her language skills, saying her performance was "A-plus".
Xi said Arabella - the daughter of Ivanka Trump and Jared Kushner - is already a starlet in China, and that he hopes she will have the chance to visit the country.
Arabella sang in Mandarin and recited a Chinese poem for Xi and Peng when the couple visited the United States in April.