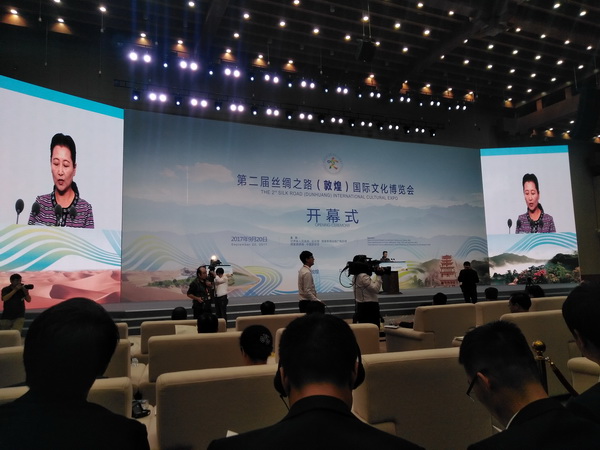 Delegates to the Second Belt and Road International Expo acknowledged that culture is a bridge to people-to-people exchanges.[Photo/people.cn]
The Second Silk Road International Cultural Expo opened on September 20, 2017 in Dunhuang, Gansu province in northwestern China on the theme, "Promoting cultural exchange and cooperation, creating a better future."
Some 124 delegates from 51 countries and three international and regional organizations took part in the one-day fair, showcasing their outstanding cultural achievements and discussing exchange and cooperation plans.
Speaking at the opening ceremony, the Chinese Minister of Culture, Luo Shugang, said the first edition last September recorded a number of achievements. These include coming out with the Dunhuang Declaration, reaching consensus on cultural exchanges and cooperation, signing cooperation framework agreements, while economic and trade activities were carried out.
"Two thousand years ago, our ancestors blazed the trails, sailed across the ocean and finally opened up the Silk Road spanning Asia and Europe connecting land and sea. Its profound historical and cultural connotations not only provide nourishment for the Chinese civilization, but also inject vitality into rich and diverse world civilizations," Luo Shugang recalled.
"In today's world where peace, cooperation and development remain the theme, …. the Silk Road shows us that we can learn from each other and seek mutual improvements through dialogue and communication of different civilizations and development patterns," he added.