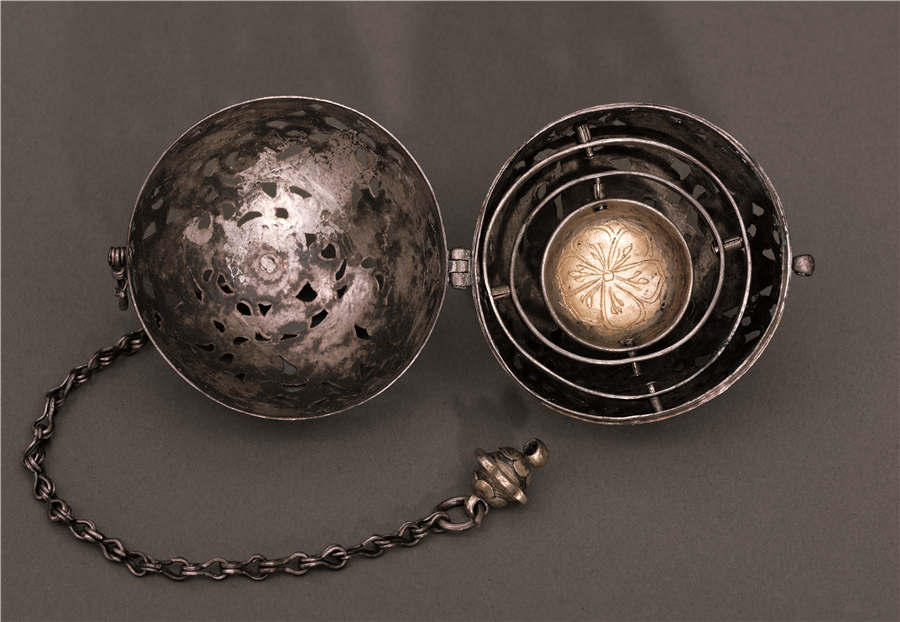 Guilt silver sachet with flower and bird patterns, Tang Dynasty (618-907). [Photo provided to China Daily]
"We regard the second method as the more sophisticated, but even with the help of a microscope we have yet to discover a single piece that reveals a porous texture.
Yang says the lack of progress is the result of the very few research objects that are available to his team.
"It's extremely hard for us to borrow from museums. For example, I've never had a chance to closely inspect that coupling piece I've just been talking about."
On the other hand, modern technology has transformed the work of archaeologists and conservationists such as Yang, whose deductions used to be drawn largely from field work. Between 2014 and 2016 Yang's team worked closely with researchers at the Chinese University of Hong Kong in an effort to unlock the secrets of the ancient goldsmiths. The project was funded by Chow Tai Fook, the Hong Kong-based gold jeweler long associated with the revival of ancient Chinese metal craft. Indeed, the exhibition is mainly the result of that collaboration.
"With their language advantage, our Hong Kong partners contributed partly through their research of English-language documentation," Yang says. "They were looking for evidence that might point us in a certain direction or help re-establish a long-lost link."
That link could prove crucial for the likes of Yang and Bai, who are trying to reposition their research, and to weave it into a broader narrative. Bai, for her part, is behind another exhibition in Hong Kong, on archaeological findings and sites along the ancient Silk Road, due to open in November.