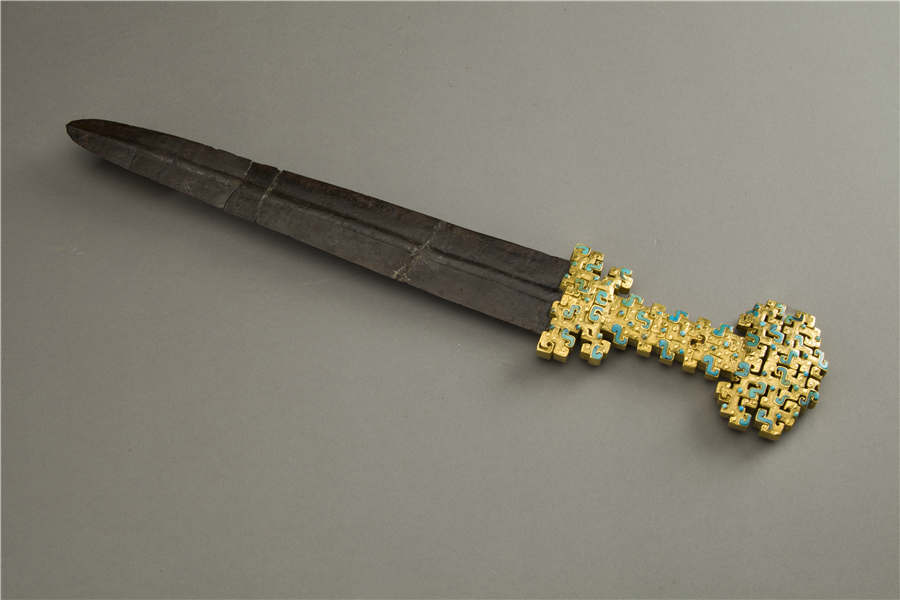 An iron sword with gold hilt decorated with panhui patterns and turquoises, Spring and Autumn Period (770-476 BC). [Photo provided to China Daily]
"What sets this exhibition apart from everything I have organized before is that this one tells a story, first and foremost, about a particular handicraft-metalwork, and more specifically goldwork," says Bai Lisha, of the Shaanxi Cultural Heritage Promotion Center. A veteran project manager, Bai is responsible for many exhibitions outside the Chinese mainland showcasing Shaanxi's archaeological heritage.
"Before, the narrative of a show was always spun around either a historical figure or period."
The metalwork highlighted here is split into nine categories, including forging, casting, gilding, and filigree and a very special one involves the use of blue kingfisher feather.
"In choosing exhibits for the show, I needed to ensure all these different crafts were represented," Bai says.
"Another criterion is beauty: what meets the eye and inspires the mind is infinitely more important than a particular object's historic value."
One of the highlights of the exhibition is an iron sword with a turquoise-embedded gold hilt. The sword, unearthed from a tomb dating back to the Spring and Autumn Period (770-476 BC), is held in the highest regard by archaeologists because of its beautifully wrought out and magnificently mounted handle. The S-shaped turquoise was meant to symbolize the curve of a dragon, Chinese civilization's most powerful totem.
As a prelude to the Warring States Period, which ended when Emperor Qin Shi Huang united the country in 221 BC, the Spring and Autumn Period brought the rising of one power after another, all buttressed by military might. The sword seems an apt metaphor for a time in Chinese history best remembered for endless maneuvering, military and diplomatic.