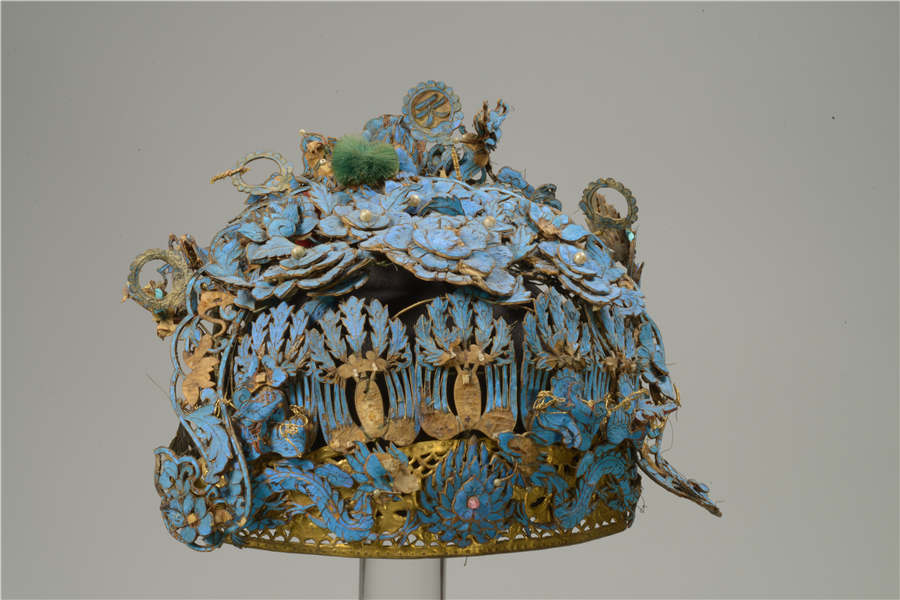 Kingfisher blue crown with dragon and phoenix design, Qing Dynasty (1644-1911). [Photo provided to China Daily]
Another item of particular interest is a holder for an umbrella. The catalog calls it a coupling for connecting two parts of the long handle. With gold and silver patterns set against the bronze copper, it serves to remind gobsmacked viewers of the lengths their ancestors went to embellish their lives.
But of course this was just a privileged few, those who sat at the apex of the social pyramid, breathed its rarefied air and surrounded themselves with aesthetic beauty, not only in life but in death as well.
The umbrella is believed to be part of a copper chariot unearthed from the grand burial ground of Emperor Qin Shi Huang, who united China for the first time before going on to build the Great Wall.
Yang Junchang, a conservationist and expert in ancient Chinese metal craft, says the question of how the delicate, swirling patterns were produced remains open. The thread of gold, as if outlined on a copper surface by the finest Chinese paintbrush, is in fact the product of a mysterious and long lost art.
"We believe there are two main possibilities, the first being that gold was hammered into the pre-carved groove on the copper ware," Yang says. "The second is that the groove was filled in with a semi-molten amalgam of gold and mercury before being heated. The result: the mercury evaporated and the gold remained. The first method would have left traces of pounding on the metal, and the second one would have left pores produced by the mercury as it escaped.