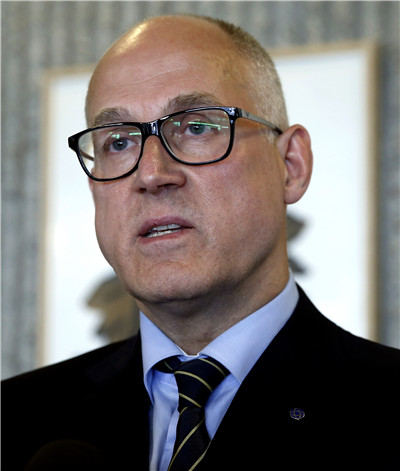 Jan Holthuis, lawyer who represents the Chinese villagers in court. [Photo provided to China Daily]
Legal standing
Other issues were also brought up in court, such as the legal standing of the Chinese villagers in Dutch courts, and whether or not Van Overeem bought the statue in good faith.
Van Overeem claimed that the "Chinese village committee is not to be referred to as a natural person or legal person" under the Dutch Code of Civil Procedure, and "the claimants should be declared inadmissible in their claims".
Holthuis later told media outlets: "We have already argued that the village committee is a special legal person under Chinese law, and there is jurisprudence or case law in the Netherlands saying that even when you do not have legal presentation in terms of a legal entity, you can still file a claim.
"A lot of issues in this case have no case law," he told Xinhua. "Each time we almost have to invent the next step. But it doesn't mean we will fail."
Burning incense
On Thursday evening, dozens of villagers burned incense in Pu Zhao Tang, the temple in Yangchun, and prayed for the return of the missing statue.
In 2015, the village went through official and private channels to negotiate with the Dutch collector for the return of the statue after hearing media reports that the statue being displayed at a "Mummy World" exhibition at the Hungarian Natural History Museum in the capital, Budapest.