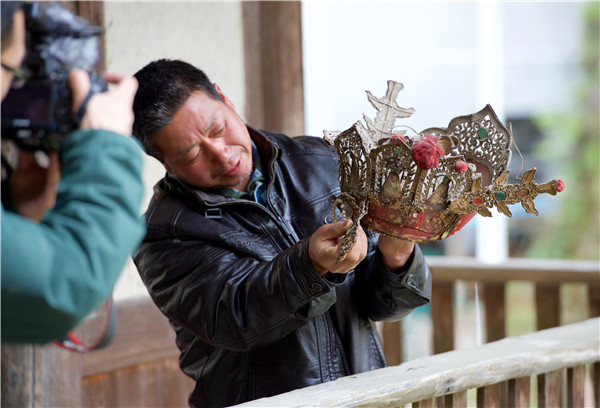 A villager shows off the crown worn by the statue in Yangchun, Fujian province. [Photo/Xinhua]
Identity issues
The nearly three-hour hearing was dominated by a debate over the identity of the statue. Is it Zhang Gong, the 11th-century monk who has been worshipped for generations in two Chinese villages, or not?
"It is not their statue," Van Overeem told Xinhua after the hearing.
In court he read several reports and emails and produced a CT scan to show that two characteristics of the Zhang Gong statue-a hole in one of the hands and a wobbling head-were not present in the statue he bought.
When asked about the Chinese characters that read "Liu Quan"-Zhang Gong's given name-and "Pu Zhao Tang", the name of the village temple, written on a roll of linen found in the statue, he said: "The linen was added 200, 250 years later. It is not automatic proof that it belongs to the mummy."
When the judge inquired about the possibility of seeing the Buddha to check the evidence, Van Overeem said the new holder wishes to remain anonymous.
Holthuis showed the court numerous similarities between the statue and the Zhang Gong Patriach, arguing that the villagers are entitled to have their statue returned to its original place.
"There is objective evidence that Zhang Gong is Zhang Gong. Each time, Mr Van Overeem comes back to two arguments-no hole in one hand and no loose head. But we have no independent evidence, because he did the CT scan and now the Buddha is no longer in his possession," he said.
Lawyers representing the villagers also used the argument that Dutch law states "a person is not allowed to have the corpse of an identifiable person in their possession".
Van Overeem argued that what was discovered in the statue was not a "corpse" but "human remains", because "most of the organs are absent".