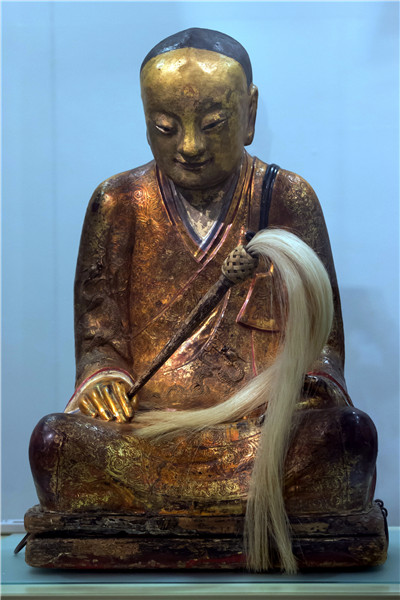 The stolen Buddha. [Photo/Xinhua]
Anonymous holder
At the hearing, Van Overeem stated that the new holder of the statue is a "collector-investor-intermediary", who "is aware of the mummy controversy and political sensitivities, and prefers to remain anonymous".
When asked to disclose the holder's name, or email exchanges that would illustrate how the deal was negotiated and the conditions under which the exchange was made, he refused.
Representing the villagers, lawyer Jan Holthuis told the court that under the Dutch Civil Code such an agreement is contrary to good morals and an affront to decency and public order, and is therefore void.
He cited an email signed and submitted by Van Overeem as proof that the collector reached the exchange agreement after learning that the villagers had hired lawyers to take legal action in the Netherlands.
"By taking the statue away, the collector caused a presumption of a fraudulent act-namely preventing the enforcement of a claim to return Zhang Gong, if the court would so decide," Holthuis said.
Two weeks ago, the villagers filed a demand asking the court to require the defendant to disclose the identity of the new holder.
In response, Van Overeem asked the court to dismiss the villagers' demand immediately on formal grounds. The judge refused and ordered him to submit a statement to challenge the claim within six weeks.
"This is good. The other party has the right to make a statement on the reason why they think they cannot disclose the identity, and we can still reply to their statement. Then the judge will make a decision on it. It might take months," Holthuis told the media.
When the identity of the new holder is known, the villagers will seek to make him or her part of the legal proceedings to answer their claims that the Zhang Gong Buddha statue should return home, he added.