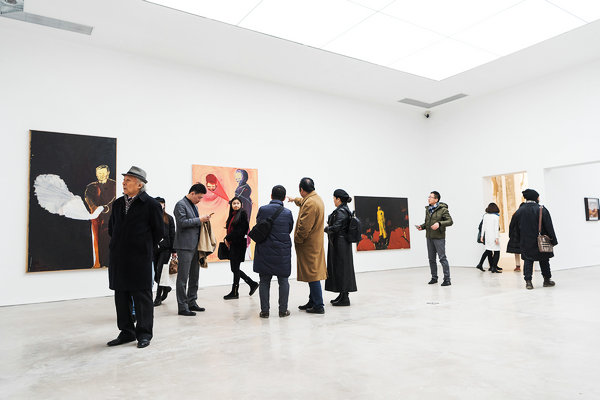 The show Three Men Exhibition is now running at N3 Gallery in Beijing. [Photo provided to China Daily]
"The cooperation (with Thomas) was quite accidental. But as I paint him more, I've found a temperament and a mental state that I feel is ideal," he says.
Mao applies a lot of gray to indicate the sadness and sensitiveness deep in people today. He says he tries to portray his own state on Thomas' face-and also a look that shows the common mentality of people.
Xia creates a strange, magical world in his works. The 58-year-old artist paints deformed human bodies and faces of weird ghosts and deities. He arranges these figures in a dramatic setting like that of a stage. He teaches stage art at the Central Academy of Drama in Beijing.
He says deformation is on one level a personal resistance with a uniform standard; it also indicates people's dissatisfaction with reality.
If you go
10 am-6 pm, through Monday. B08-1, Bei Sanjie Street, 798 Art Zone, Chaoyang district, Beijing.