A musical adapted from Chinese pop star Jay Chou's directorial debut has landed in Shanghai after its premier before Beijing audiences in December.
Produced by a top Broadway team, The Secret can be categorized as a jukebox musical, like the universally acclaimed Mamma Mia. The musical features over 20 popular songs by Jay Chou, which help tell the story. So while the musical is based on the 2007 film, the nostalgic sentiment and those classic songs, integral to the whole storyline, are a highlight.
In the realm of musicals, The Secret is the first film production in Asia that has been deemed adaptable by the Broadway production team.
Its huge success since its Beijing debut can be largely attributed to the top-notch production crew, including American director John Rando, who won the Tony Award for best direction of a musical in 2002, set designer Beowulf Borittand, another Tony Award winner in 2014 for his incredible stage setting in Act One, American playwright Marc Acito and renowned American dancer Zach Woodlee, who choreographed the American musical comedy-drama television hit, Glee.
Although the musical is produced by an international group, the story itself is identical to the plot of the original film, which means that it is entirely Chinese in origin.
"After watching the show, you won't feel that the script was written by a foreigner, because the lines are very down-to-earth and are unique to Chinese culture. For example, there is a scene in which the actor climbs up to the roof and says, 'Jesus Christ, the smog is so heavy', this was really written by Marc.
He has developed some understanding of the smog in China after having been here for a while", said Zhong Lifang, the musical's producer, who in 2014 co-founded China Broadway Entertainment, which invests in musicals and develops stage shows.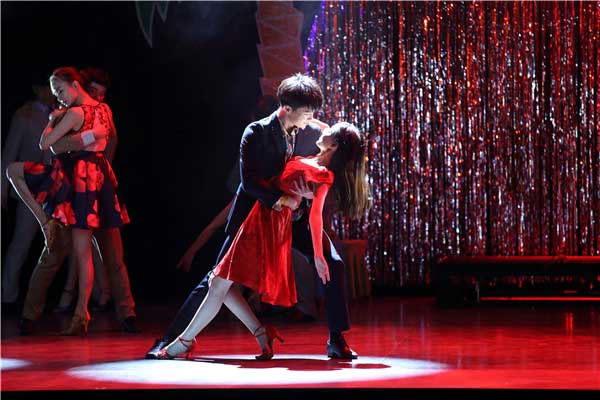 Produced by a top Broadway team, The Secret can be categorized as a jukebox musical.[Photo provided to chinadaily.com.cn]
Though a global collaboration can surely bring a mixture of creative freshness to the otherwise singular culture-based production, there are problems to crack.
"We hope that we can create something that can cater to the Chinese market, while at the same time is an international and high-quality product", Zhong said.
Classic Broadway musicals have a variety of versions globally and China has introduced many of them. Zhong's ambition is to produce a good number of first-class musicals that can appeal to a global audience.
"Now we have several countries, including Japan, South Korea and Singapore, that are willing to cooperate with us in terms of copyright, now I feel all the hard work is worthy", Zhong once said in an interview. She also views musicals as heritage. "The musical is a living form of cultural inheritance. Good musicals can be performed for decades, and even hundreds of years."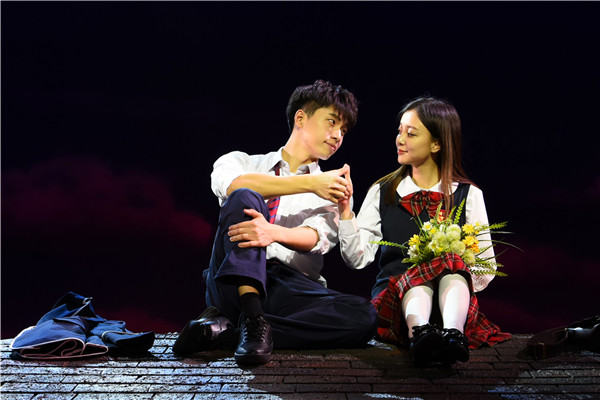 [Photo provided to chinadaily.com.cn]
The musical was very well received among viewers. The ratings for the show on Douban.com, one of China's most popular review sites, climbed to 8 out of 10 on Feb 23, which is strong proof of the musical's success.
One comment reads, "It is a reconstruction of the classic film from 10 years ago; American-style humor and Chou's rap have created a joyful scene". The sound and visual effects and stage design have also wowed a lot of audiences. "The Broadway production is amazing; it has revolutionized my perception of musicals, not to mention the dazzling stage setting and dialogues, which are full of wit and humor", one viewer said on Douban.
After watching the musical, Jay Chou himself expressed his compliments on Facebook: "I watched the musical, The Secret, today and I am greatly touched. Usually good musicals are adapted to films, but this time, Broadway has made a film into a musical, I am so impressed that I can't express my joy enough".
And he seems to share Zhong's perception of musicals, as he said that he hoped that the meticulously-produced film, The Secret, can be passed on far into the future.
The Secret is on at the Shanghai Cultural Square from until Sunday and will then tour Taipei, Seoul and other cities in Asia.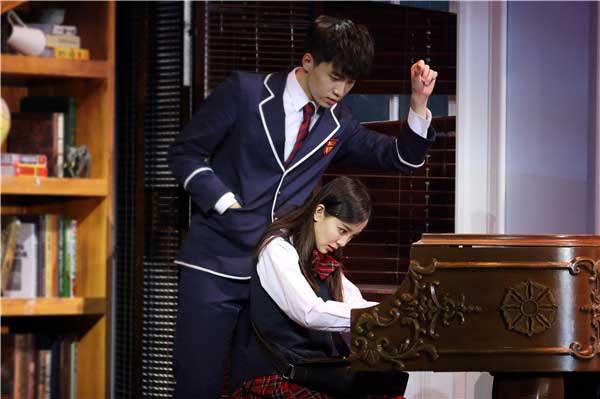 [Photo provided to chinadaily.com.cn]