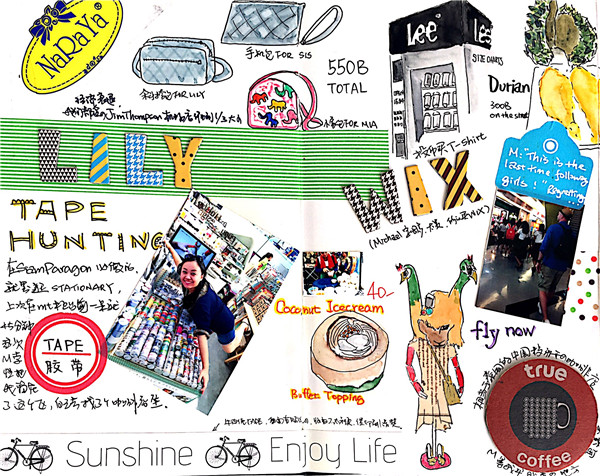 More young Chinese, including Yang Li, now keep signature travel journals, with text and pictures, tape and collages. [Photo provided to China Daily]
The digital world offers us many options to keep records, but for some there is nothing like a journal, Xu Lin reports.
Yang Li carefully traces the outline of Myanmar's map with a pencil, transferring it to her notebook with carbon paper. She then uses colored tape to make a collage in the shape of the map.
It's a simple way to produce a travel journal, which contains both illustrations and text-you paste photos and tape and write your thoughts.
"It's like the journey becomes an indelible memory because each time you thumb through the pages, you remember the happy times," says Yang, 39.
She has been keeping travel journals for around three years, and also teaches others how to make them.
Speaking about travel diaries, Yang, who is now a freelance illustrator, says: "You may soon forget about the digital photos and rarely browse them on your computer, but it is convenient to read your journals repeatedly."
She adds that making travel journals is like creating art, and everyone has a unique style.
Her diaries contain travel tips because she records details like things to pack and public transport information.
So, whenever her friends have questions before they go to a destination she has visited, she can take out her journals to help them.
Such journals have become popular in Europe, the United States and a few Asian countries, including Japan and South Korea, in the past two decades, Yang says.
But the trend is in its infancy on the Chinese mainland.