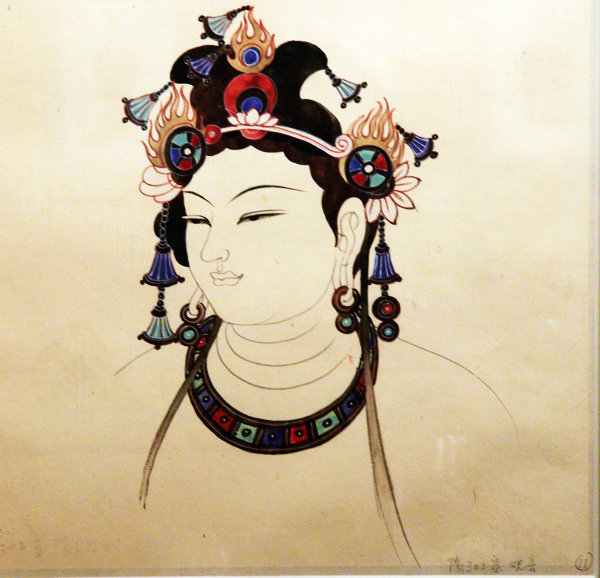 A piece of Chang Shana's work. [Photo provided to China Daily]
So, she incorporated the styles and patterns of Dunhuang's art in the decoration of Beijing's "top 10 architecture" in 1958, including the Great Hall of the People and the Cultural Palace of Nationalities.
She also used these decorative elements when designing scarves and tea sets, and her drafts are on display at the ongoing exhibition.
The show also includes her paintings of costumes and ornaments worn by figures on the murals.
Most of the works were produced after she retired in 1998 as the head of the Central Academy of Arts and Crafts (now Tsinghua University's Academy of Arts and Design).
Chang Shana once received a letter from her father saying, "Shana, do not forget that you are from Dunhuang."
"I was very lucky to have a great father," she says. "He gave me not only a passion for art but more importantly taught me loyalty to my country. He put the needs of his people and art before his personal interests. I feel the same way."
Contact the writer at linqi@chinadaily.com.cn
If you go
9 am-5 pm, through Sunday. 1 Wusi Dajie, Dongcheng district, Beijing. 010-6400-1476.