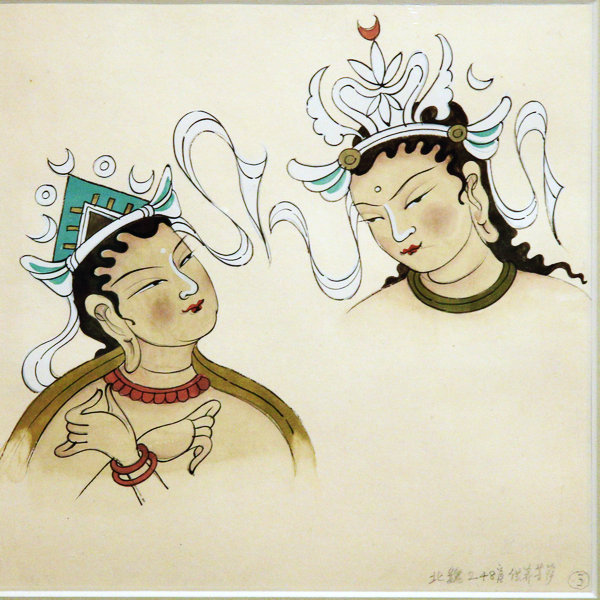 A piece of Chang Shana's work. [Photo provided to China Daily]
At her father's instructions, Chang Shana duplicated almost all the finest examples of murals dated from the fourth century AD to the Yuan Dynasty (1271-1368).
Meanwhile, she learned from her father how the styles for the murals had evolved.
Wu Weishan, director of the National Art Museum of China, says it is beyond imagination how a teenage girl could recreate such dazzling costumes, free lines and peaceful facial expressions of the figures, and how she was able to handle grand compositions in which there were a lot of deities and intricate decorative patterns.
"She transformed the skill of copying into creative, comprehensive designs to cater to the needs of modern life," Wu says.
While her father introduced her to the brilliance of Dunhuang, it was Lin Huiyin (1904-55), who helped Chang Shana develop into a designer.
She became an assistant teacher at Tsinghua University's architecture department in 1951 where Lin was a professor. And she explored modern design under Lin's guidance.
"Lin believed that only when classic Chinese art and craft were represented in novel ways, could we improve the form and function of industrial design," says Chang Shana.