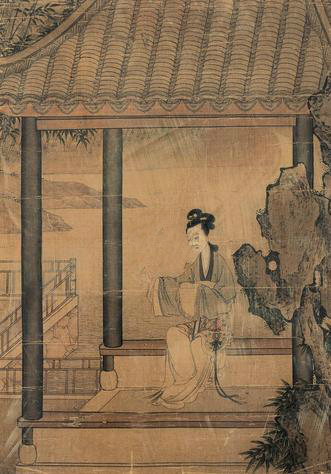 A painting of Su Hui, by Shen Ling from the Qing Dynasty (1644-1911). [Photo/artron.net]
Su Hui
Su Hui, from the Qian Qin (351-394) was famously known for a handkerchief she made. The textile was embroidered with 841 characters that could form 7,958 poems.
This kind of puzzle-like poem is calledhui wen shi, which makes use of the word order of Chinese language marked by a monosyllabic morpheme.
NamedXuan Ji Tu, the handkerchief was originally made by Su to send to her husband, Dou Tao. Su married to Dou at age 16 and the couple was separated due to Dou's exile. Su waited for her husband to come back and would not divorce him, yet Dou had an affair with another woman.
Sad and angry, Su created the poems on a handkerchief in red, yellow, blue, white, black and purple silk thread and sent to her husband. Dou was deeply moved by the poems and felt guilty for his behavior. He broke up with the mistress and reunited with Su.