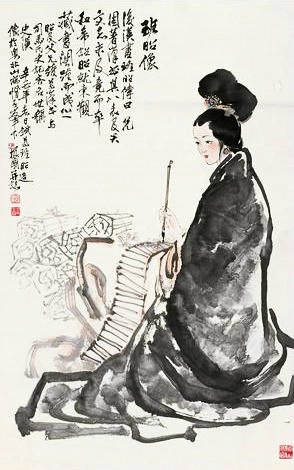 A painting of Ban Zhao, by Chen Zhenguo. [Photo/artron.net]
Ban Zhao
Ban was the first female historian in China. Her father, Ban Biao, was an historian during the Eastern Han Dynasty. She was also good at writing poems, yet only seven of her works have survived.
Ban was often invited by the emperor to teach the queen and other concubines mathematics, astronomy and poetry. She was honored asDa Gu, a title for knowledgeable and noble women.
At the age of 40, Ban finishedHan Shu, orBook of Han, based on her brother's writings. A total of four people wrote the book, and Ban, as the last writer, faithfully kept the style of the first three.
Ban Zhao also wrote the famousNv Jie, a book to teach women how to properly behave and how to deal with relationships with their husbands and husbands' relatives.