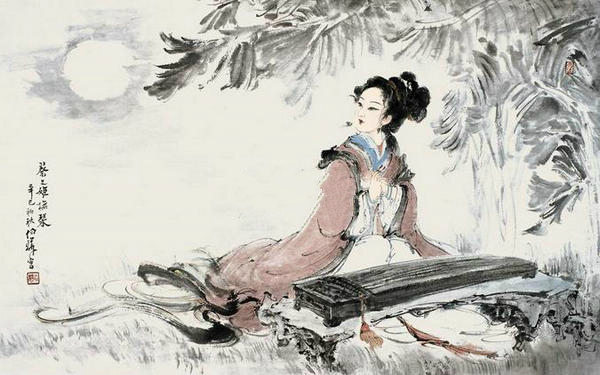 A painting of Cai Wenji, by Bai Bohua. [Photo/artron.net]
Cai Wenji
Cai was good not only at poetry and calligraphy, but also mathematics, astronomy, debate and music. Her masterpieces wereHu Jia Shi Ba Pai, orEighteen Songs of a Nomad Flute, andBei Feng Shi, orIndignant Poems.
As the daughter of literatus Cai Yi of the Eastern Han Dynasty (25-220), Cai had a very unusual life. After her first husband died, Cai was abducted by theXiongnutribe, an ancient group in China. She was forced to marry the tribe's Zuoxian king and gave birth to two children. Living in a totally different environment, Cai was very homesick.
Twelve years later, warlord Cao Cao, also a student of Cai Yi, rescued Cai from theXiongnutribe. At the age of 35, Cai was married for a third time in a union arranged by Cao to a man named Dong Si.