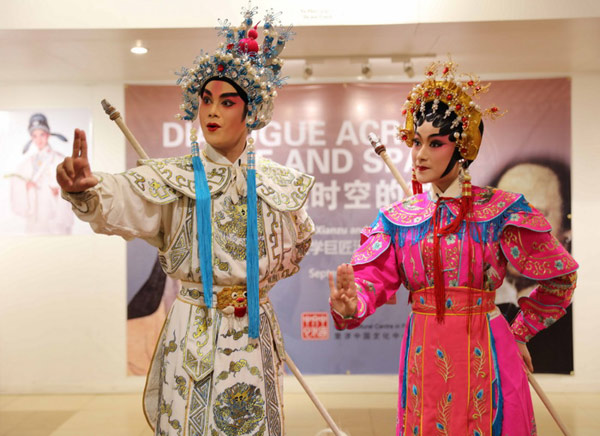 A stage photo of Mu Guiying Chooses Her Husband. [Photo/Chinaculture.org]
A string of classic theatrical shows was performed at the University of the South Pacific (USP) on September 13. It opened the Dialogue across Time and Space, in honor of literary giants Tang Xianzu and William Shakespeare.
The Peony Pavilion, Mu Guiying Chooses Her Husband and Interrupted Dream in the Garden were brought by the Guangdong Cantonese Opera Theater. Nearly 60 distinguished guests watched the show.
The show was interrupted by applause from time to time. Chinese artists' singing voices, dancing moves, touching narration and skilled acrobat fighting were deemed stunning. Local songs later given by young artists from the USP complimented the oriental theater arts perfectly.
"William Shakespeare is a great playwright and an outstanding poet. He is credited as the king of dramas. His brainchildren are Romeo and Juliet, Hamlet, Othello, King Lear, and The Merchant of Venice. His legacy is our treasure. Likewise, Chinese playwright, writer and thinker Tang Xianzu has a profound impact on the human history with his great works, such as The Peony Pavilion, The Handan Dream, The Nanke Dream and The Purple Hairpin. Tang is dubbed the Oriental Shakespeare as a result," noted Deng Xianfu, head of the China Cultural Center (CCC) in Fiji.