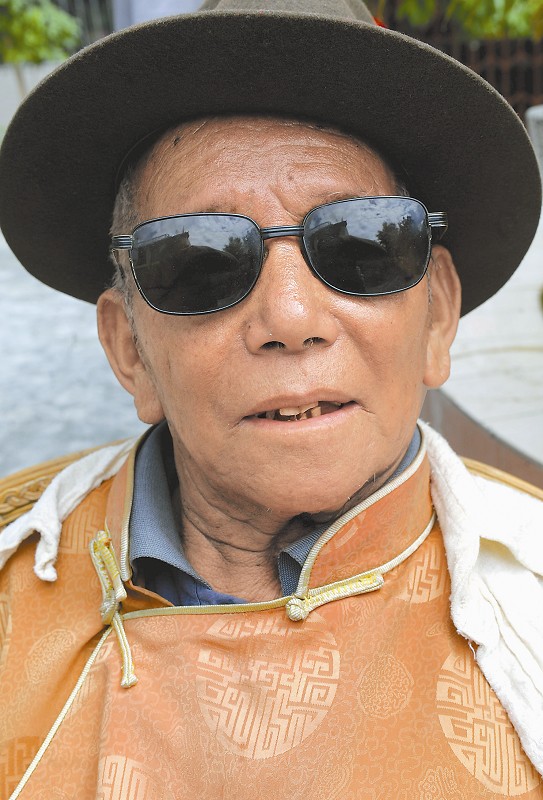 Gema Tsering.[Photo/scdaily.cn]
Gema Tsering was born in 1930 to a family of Xueqiang dancers in Zishi Village of Zigeng Town in Derong County, Garze Tibetan Autonomous Prefecture, Sichuan Province. He is the third generation in this family of dancers. At the age of 15, he started to learn how to dance from his father, a well-known performer locally, but he soon won his own fame. In 1980, Tsering began to voluntarily teach dancing and teamed up with amateurs to perform across the town. In 1987, the government awarded him for his excellent skills, and in 1990 his troupe won the bronze medal at Derong's first arts festival. In 2012, Tsering was nominated an inheritor of national intangible cultural heritage.
THE plaza in Waka Town is crowded with locals watching a Xueqiang performance. On the leader's orders, about 20 dancers start singing and dancing, stomping their feet rhythmically. The male dancers wear leather hats and boots and the female performers pleated skirts and jewelry. After about 20 minutes, the performance reaches its climax, and the dancers proclaim the blessing Tashi Delek in unison.
Xueqiang, which literally means "dance together," is a folk courtship dance popular in Waka Town of Derong County, Garze Tibetan Autonomous Prefecture in Sichuan Province. It originates in the Kangba area, where it is said people are practically born singing and dancing.
Eighty-five-year-old Gema Tsering is the inheritor of this artistic form. Seeing young people learn the dance is what makes him happiest; only when the younger generation embrace and learn this ancient art can it stand the tests of modern life.