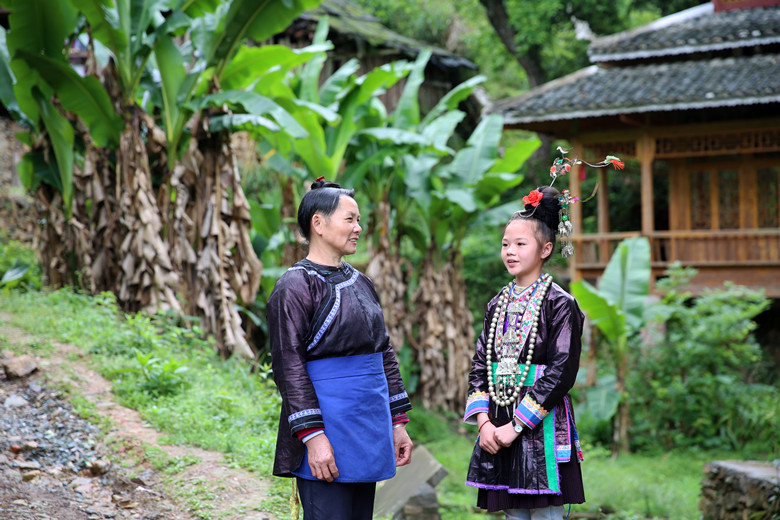 [Photo/gywb.com.cn]
Hu Guanmei, 60, was born in Wangdong Village, Congjiang County of Qiandongnan Miao and Dong Autonomous Prefecture, Guizhou Province. Hu learned the art of Kam Grand Choir singing from her father, a renowned local performer. After marrying, she moved to Zaidang Village of Rongjiang County and began teaching local young people and children Kam Grand Choir Songs. She has tutored hundreds of singers, some of whom have gone on to become singing masters. Her contribution to the preservation of Kam Grand Choir won her the title of Outstanding Inheritor of Chinese Folk Culture in 2007, awarded by the China Federation of Literary and Art Circles and the Chinese Folk Literature and Art Society. In 2013, Hu was named an official inheritor of China's national intangible cultural heritage. BABBLING brooks and towering ancient maples form the idyllic scenery of Zai- dang Village, a mountain community of the Dong ethnic group and home to Hu Guanmei. The melodious singing of the Kam Grand Choir can be heard from afar by approaching visitors. It is Hu, teaching children to sing, something she has done for the past 38 years.
Zaidang is the birthplace of the Kam Grand Choir, and Hu is one of the most famous singers of this polyphonic choral technique, and the first choice for anyone looking for a singing teacher. Hu's dedication to the Kam Grand Choir is remarkable. When her children were babies, she would receive students until late at night, cradling her babies in her arms as she taught. It's no wonder her children all learned to sing from a young age. Hu saw this as part of her job, "I needed to take every opportunity to pass on my skills to my children, otherwise the art of the Kam Grand Choir would risk extinction," Hu said. Love for Music
"Food for the body; song for the mind" has been a motto among the Dong people for generations. Hu's father was a famous singing master in the local area and he made a strong impression on Hu throughout her childhood.
Hu soon became the best female singer in her village and her fame spread to the surrounding areas. Thanks to her good memory, Hu can perform over 100 Dong songs and has mastered various singing techniques. Such talents are seen as desirable by young Dong men. The story goes that it was during a local match-making ritual that a young man named Yang Shengjin won Hu's heart with his singing. They soon married and the couple moved to Zaidang Village where Hu started to work towards becoming a singing master.