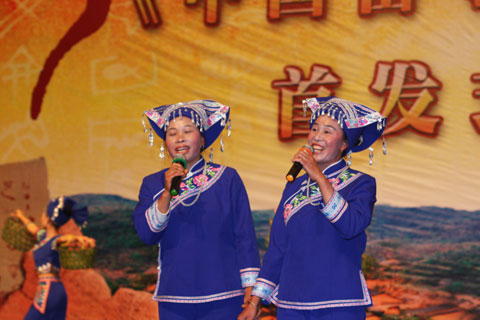 [Photo/chinadaily.com.cn]
Nong Fengmei, 50, is a farmer and singer of the Zhuang ethnicity from Poya Village, Funing County, Wenshan Zhuang and Miao Autonomous Prefecture, in the frontier province of Yunnan. During a cultural resources survey, local officials discovered in her home a piece of fabric bearing a time-honored script of 81 pictographic characters. They turned out to be Zhuang folk songs. Nong is one of the few able to sing these occult refrains. She is the leading singer at traditional Zhuang festival antiphonal choral performances, and has produced several albums. In 2012 she was named an official inheritor of China's national intangible cultural heritage.
POYA is a rural community of Zhuang people in Funing County on the eastern tip of Yunnan Province. Ya is the Zhuang name for Buddleja officinalis Maxim, a herb whose extracts locals use to dye rice. Poya hence means a slope festooned with the blooms of this plant.
Singing is part of Zhuang life, and its strains emanate from the region's stilted homes throughout the day. Poya houses feature turmeric colored adobe walls, dark roof tiles, and bamboo terraces that extend from the second floor.
Love Songs on Home-woven Cloth
Her singing hobby apart, Nong Fengmei's life is no different from that of other wife farmers in the village. She mainly takes care of her family and attends to crops. She owns the Poya Song Book that has brought her national fame. It consists of a length of home-made cloth one meter long and half a meter wide, painted with 81 icons, about 3.3 centimeters in diameter and painted in cactus extract, symbolizing the moon, rocks, bamboos, maple leaves, various fruits and vegetables, clothes, fish, and farm tools.