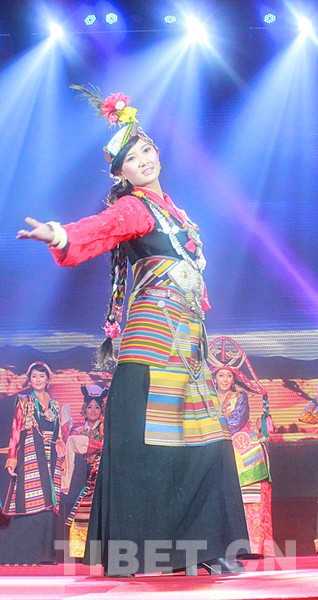 [Photo/Tibet.cn]
The distinctive Jyaidexiu (a town in Tibet's Shannan Prefecture) "bangdian" — Tibetan for apron – has a 500-year-long history, and in 2006 was listed as a National Intangible Cultural Heritage. Dainzin Zhoigar, 23, is the regional-level inheritor of the Jyaidexiu bangdian weaving craft. Having inherited the skills of her late father, the national inheritor of this technique, Zhoigar has advanced the style of the Jyaidexiu bangdian and broadened its scale of production. THE colorful aprons, or "bangdian," composed of narrow horizontal stripes which married Tibetan women traditionally wear, are a distinct feature of local life which visitors to Lhasa immediately notice. Jyaidexiu bangdian are made from a finer, more delicate form of the locally produced woolen fabric known as pulu. We took a trip to Jyaidexiu Town, the so-called "hometown of bangdian," in Gonggar County, Shannan Prefecture, to find out more about this main item of the traditional Tibetan costume.
More than 10 Procedures
There are in Jyaidexiu Town three large-scale bangdian enterprises. They comprise the Jyaidexiu Apron Plant, the Jyaidexiu Dui-Pulu Association, and the Jyaidexiu Gesang Apron Specialty Farmers-Herders Cooperative.
We met Dainzin Zhoigar, bangdian inheritor, around midday in Jyaidexiu Village of Jyaidexiu Town, Gonggar County, Shannan Prefecture. At age 23, she is already the regional inheritor of the Tibetan apron. As her home was under construction, she took us to villager Cering's home.
On the left-hand side of the main room that functions as the Cering family workshop stand five traditional wooden looms. The history of Jyaidexiu Town's ethnic handicrafts goes back 1,500 years. Almost every household is engaged in textile industry. The Jyaidexiu bangdian is a specialized handicraft with a 500-year history. These products are well known in the domestic market, and are also exported to India, Nepal, Bhutan, and Western Europe. The bangdian weaving skill has been handed down over generations of Jyaidexiu farmers.