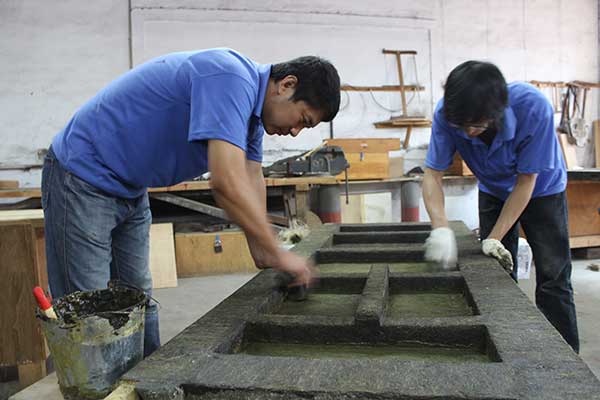 [Photo by Wang Kaihao/China Daily]
A lot of the restoration techniques used will be seen by members of the public when the museum goes ahead with plans to open branches in the northwestern outskirts of Beijing.
With the museum's expansion, there will be bigger studios to showcase the techniques which will no longer remain hidden.
But like with all traditional skills these restoration techniques could be lost if younger workers do not join the profession.
Neither Huang nor Bai's sons want to follow in their fathers' footsteps.
But there are others who think differently.
Giving his reasons for joining and staying with the profession, Zhang Fengbing, 37, who joined the group in 2001, says: "Though my salary is lower than my counterparts outside, not everyone has the privilege of restoring the palace."
There were about 400 restoration workers at the Palace Museum when work was at its peak.
Now there are less than 100, and Huang says that only about 10 young people are still actively using the ancient restoration techniques every day.
Huang also worries that newcomers to the restoration sector will not have enough opportunity to hone their skills.
It takes years to nurture a qualified restorer, and these new workers in the palace are not allowed to take part-time jobs elsewhere.
But Bai is more optimistic about the future.
"The palaces will always need mending," he says.
"No matter how small the project is, it represents the ancient Chinese construction spirit.
"As long as the young inherit that spirit, the tradition will live on."