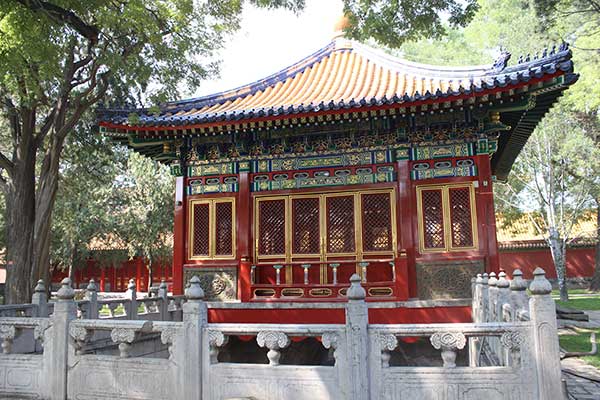 A pavilion in Cining Gong garden in the Palace Museum.[Photo by Wang Kaihao/China Daily]
As Cining Gong in the Forbidden City is set to be unveiled to the public, some of those behind its painstaking restoration process share their experiences. Wang Kaihao reports.
It is a closed part of the Palace Museum, also known as the Forbidden City.
But is not as quiet as one might expect.
Staff members there are busy as they rush about giving final touches to the legendary Cining Gong (Palace of Compassion and Tranquility).
This palace is set to be thrown open to the public in October to mark the museum's 90th anniversary, though a three-year major restoration was completed in 2010.
The former residence of empress dowagers will finally show its mysterious face as it is turned into an exhibition hall to display ancient sculptures.
It was used as a warehouse for decades.
Huang Yongfang, 58, a carpenter who played a major role in the project, recalls that the first step in the restoration process was to clear the weeds in front of Cining Gong.
These days he spends his time in an old workshop, which is less than 30 square meters, guiding young apprentices on how to make wooden models of dougong, a traditional Chinese construction interlocking bracket.
Huang has worked in the Forbidden City for 40 years.
"There is only one Forbidden City," Huang says emotionally recalling his work in the past decades.