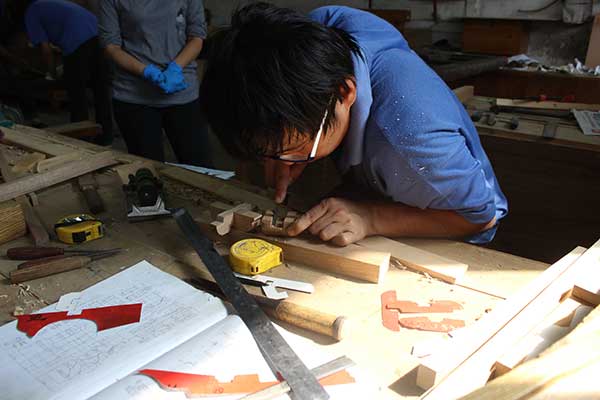 [Photo by Wang Kaihao/China Daily]
"If they are basically well-preserved, we will leave them intact."
Old royal files and blueprints are major reference material for today's restorers, but a lack of old restoration logs is a problem.
So to leave better records for future restorers, Huang and Bai helped to compile logs recording this restoration of Cining Gong, the first since 1949.
Giving a glimpse of the painstaking work involved in the restoration, Huang says that the old measurement tools and pulleys are still used in the process.
"Today's industrial products are often unable to meet the need for extremely high quality in the restoration of the palace."
The palace is thus more like a handmade luxury.
For instance, the protective layers brushed on the lumber are still made from tung oil (traditional Chinese wood oil) and hemp. No chemical paint is used.
Bai says that though machine-made bricks were used to pave some of the spaces in the museum, the bricks used to restore the palace were sourced from the original workshops that produced them.
"We researched historical files to find out where bricks for the Forbidden City came from during the Qing Dynasty, and we ordered materials from them," Bai says.
The Palace Museum had earlier announced that 76 percent of its area would be open to the public by the end of 2016, which means that a lot of the painstaking restoration work will be seen by the public.
"Numerous visitors will inevitably have an impact (on the structures)," says Huang. "However, without people, what is the meaning left for a building?"