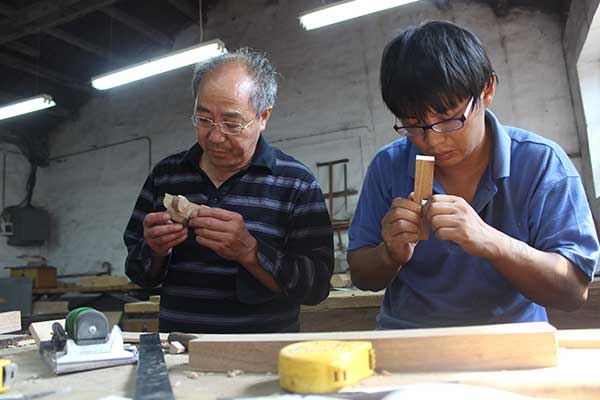 Huang Yongfang (left) checks components of a wooden model.[Photo by Wang Kaihao/China Daily]
"Even a slight error (in the restoration) is much more than we can bear.
"No matter how time passes, the basic skills are the same as they were hundreds of years ago. We stick to the original material, technique, style and structures during restoration."
The construction of the Forbidden City started in 1406 and finished in 1420, and most of its palaces have seen many restorations and even reconstruction through the imperial period, until the fall of the Chinese monarchy in 1911.
Unlike Western palaces, which used stone, ancient Chinese palaces used lumber as the main construction material, and the different components were joined using mortise-and-tenon joints rather than nails.
"The restoration is like placing toy bricks," Huang says. "But, you have to make sure everything is accurately placed."
When a major beam in Cining Gong was found bent and the edges of the eaves were seen to have suffered damage, the whole roof had to be disassembled to replace these things.
According to Huang, nanmu, a rare type of lumber, was widely used in building the Forbidden City during the Ming Dynasty (1368-1644), but it was gradually replaced with pinewood in the Qing Dynasty (1644-1911) due to difficulty in sourcing it.
However, even pinewood is not easily available these days. The lumber needed to restore the palace was sourced with special help from the central government.
Echoing Huang's commitment to stay true to the original in the restoration process, Bai Qiang, 59, a bricklayer who has been at the Palace Museum since 1987, says: "We stick to one thing: As long as the old materials can still be used, we won't throw them away.
"There's no need to give the palace a thoroughly new facade," he says pointing to some delicate but slightly graying paintings on the beams of Cining Gong.