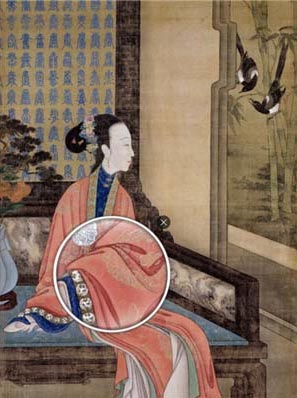 A screen capture from the app The Painting of 12 Yinzhen Beauties. [Photo/Agencies]
Name: Zhuang Ying
Product: The Painting of 12 Yinzhen Beauties, The Forbidden City Daily, Qing Emperor Costumes
Zhuang Ying, who created The Painting of 12 Yinzhen Beauties, The Forbidden City Daily, Qing Emperor Costumes, says the contrast of traditional art museums spreading messages through the latest forms of media is very interesting.
When asked where creativity comes from, Zhuang provided "the background" as the answer.
"When I'm dining or commuting, I'm always thinking about my work in the back of my head. Sometimes an idea will also pop up at the sight of something unrelated to what I'm doing at the moment. We also discuss in groups to formulate ideas.
"I think my job is very 'in', and I work in an environment like no other," Zhuang added proudly.
"The architecture and collection at the Forbidden Palace is the essence of China's traditional culture, and a window for the world to get to know our culture. We have some of the top-rated experts in all fields working here, and I'm lucky to be a part of the team," said Zhuang.
The Painting of 12 Yinzhen Beauties was the first app introduced by The Palace Museum. It features 12 paintings of Chinese women, and the app walks users through the luxurious palace life of the Qing Dynasty. Users can also use a magnifying glass function to view the details of the paintings.
The Forbidden City Daily is a calendar that shows users one piece of ancient Chinese art, or a relic and its historical and cultural background, on a daily basis.