Nigeria Embassy, first secretary, Sulaiman Rabiu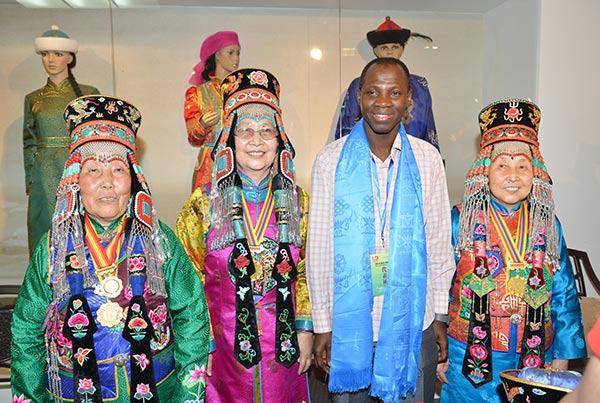 First secretary of Nigerian Embassy Sulaiman Rabiu (second from right). [Photo/chinadaily.com.cn]
Let me join my colleagues in thanking the government of China, that is, the Ministry of Culture and the government of Inner Mongolia and all who participated in making this program a success. And I can say the government has pride and preserves the culture, especially the ethnic groups. And let me share a little bit of my own experience, of my own cultural background in Nigeria. After the civil war that we had in the late 1970s, we've had little progress in cultural groups because we have too many cultural groups, 250, in Nigeria. So what we did was, we came up with different cultural exchanges with local government to come together to present their own cultural performances. In the beginning, the main objective was to prove our unity between the different regions of the country. And now it has gone big, to the extent that it attracts foreign tourists. Like on the Northern part, we have some wrestling competitions, as well as boxing competitions. And so I found myself amazed by Inner Mongolia.
On the performance by the Inner Mongolia National Art Troupe
The performances were very, very wonderful. In fact, it is overwhelming. And I'm particularly amazed by the first performance. That troupe is really a perfect troupe. And I have learnt that they have won gold medals. So I'm not surprised when I saw the performance, and reflecting by the medals they've won, they deserve it.