Uruguay Embassy, consultant, Mariano Fernandez Zurmendi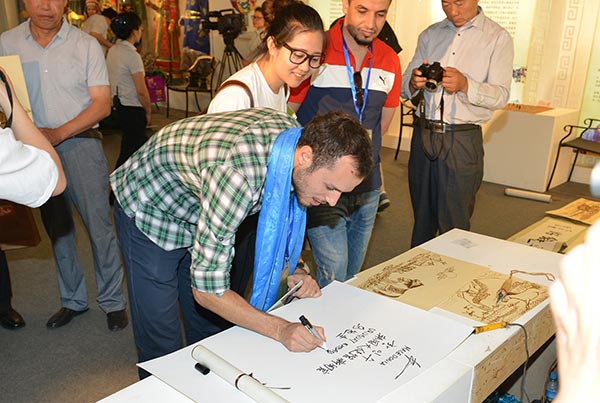 Uruguay consultant Mariano Fernandez Zurmendi. [Photo/chinadaily.com.cn]
I would join my colleagues here and thank you one more time to the representatives of the Ministry of Culture and representatives of the Inner Mongolian government, Ordos city and also Horhot city. I'm sure when I say this is not going to be my last time here in Mongolia. And when I go back to the office, I will give a very good report about this experience, these four days here, and I will try to convince my colleagues to have more cultural exchange between our people.
Zurmendi's impression of Yili Diary Group
It's something that has a very big dimension. I never imagined this. They talk about 8,000 cows where they're producing milk every day. Everything is very well organized. I know it is a very big brand worldwide and also here in China, which I have been living in for six years, I know the brand very well. I think I know it's the biggest dairy brand in China. So we came here to visit the brand, to visit the company, to visit the factory where they produce. And this really impressive assumption is very good to know. It's very interesting for us to come to the place and see how they produce this. As people from the city, it's not every day that we have the opportunity to come and see the counter side of how they raise the cattle, how they feed the cattle- all the processes here. It's very interesting for us.