Austria Embassy counselor Gudrun Hardiman-Pollross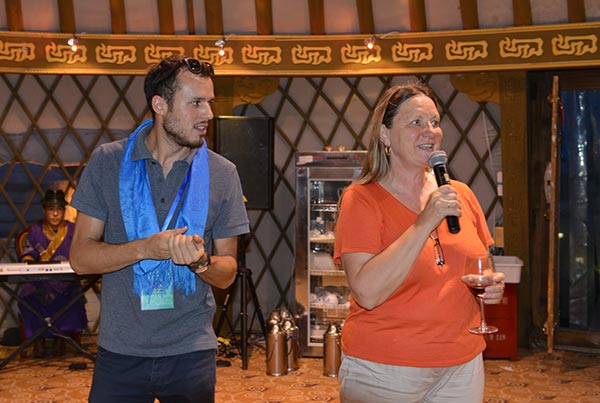 Austria Embassy counselor Gudrun Hardiman-Pollross (right). [Photo/chinadaily.com.cn]
China is the tenth country I've visited and I have seen lots of culture and lots of traditional places around the world. When you experience a wedding, a traditional Mongolian wedding, it was very impressive, and perhaps reminded me of the traditions I experienced in Serbia, India and Africa, and some bits and pieces of every culture are very similar. The way we had in the evening- the nice banquet with the bride, which was an acting bride, but still, we need to interpret this experience, and I tried with Mr. Zhao, but we couldn't really communicate until the singing started and Ganbei. Then we had no problem in communicating with each others. So culture is clearly something that has no border.
On cultural exchange between Austria and Inner Mongolia
I do see the development of more establishments of cultural ties between these two parts. I'm very much looking forward that we do send some cultural productions here to Hohhot and possibly to Ordos, to have some performances from Austria so that they can experience a little bit of the Austrian culture in Mongolia. The Mongol voice is world famous, so I do hope we can work a little bit together on voices as well, because I think it's very interesting for an Austrian professional singer to learn how the Mongols use their voices.