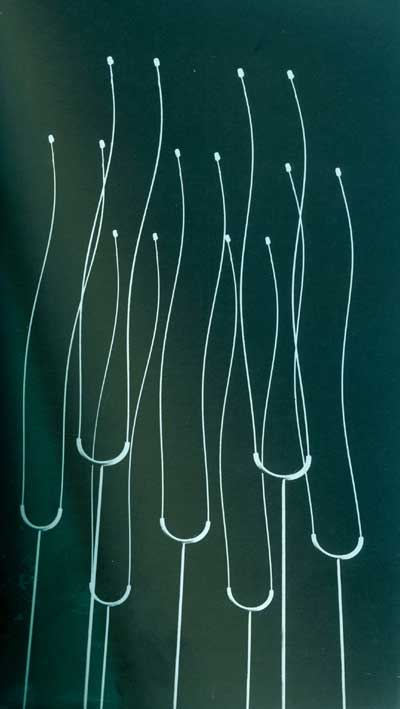 Photo provided to China Daily
"His artistic and scientific background, his whole persona as a Chinese and as an American with European influences, combining all these he came out with the works."
Growing up in Fujian province and Shanghai, Tsai was familiar with Chinese painting before he left for the United States in 1950.
However, it was through his interactive sculptures that he carved out a niche for himself in the global art world. He used vibrating steel rods, stroboscopic light and electronic audio feedback systems to present fascinating visual and audio effects.
It's difficult to describe Tsai's works in text.
People have to see for themselves to understand how "alive" his installations can be, their motion synchronized with the many variations of sound and space.
Tsai's artistic adventures are perhaps rooted in his background as an engineer. He studied engineering at the University of Michigan. After graduation, he worked as an engineer in New York.
While working, he also spent time learning Western painting at the well-known Art Students League of New York.
"He was animated. Every day he went from the office to the school, where he painted for four to five hours. It went on for several years, and he never missed a (single) class," Chang says.
Tsai worked so hard that he won a John Hay Whitney Opportunity Fellowship for Painting in 1963. And then he quit engineering to be a full-time painter, with lots of avant-garde works under his belt.
"He mixed oil pigments himself to create strong, vivid colors that thrilled his artist friends including Chinese painter Walasse Ting and American artist Frank Stella," Chang says.