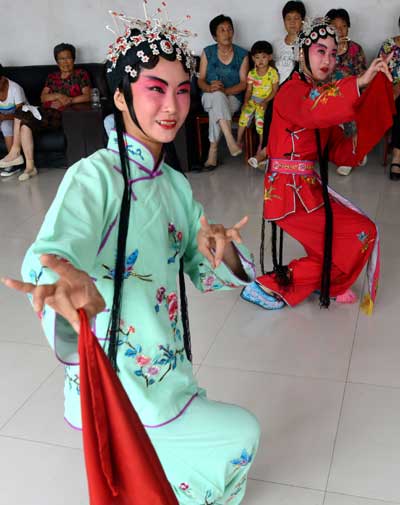 Two young performers appear on stage after taking part in a series of free Hebei Bangzi Opera training courses offered by an experienced local performer in Haixing county, Hebei province. Ma Ning / China Daily
Opera performer Zhang Fanghua retired from a troupe in Heibei province three years ago when she reached the age of 50-but she is working harder than ever.
She continues to appear in productions staged by the troupe, which specializes in the regional genre known as Hebei Bangzi Opera, even though the fact she is retired means she receives no salary.
"I did not leave because the troupe could not continue to stage productions without me as no one from the younger generation wants to join," said Zhang. "Several other members have also kept working in retirement."
The troupe in Zhengding county has only 18 staff members, including the musicians who accompany the actors and actresses, and they are all in their 40s and 50s.
Ma Fuli, the troupe's deputy leader, said: "It's not nearly enough to play a whole show, and we need to recruit amateurs for the walk-on parts. What will happen when we become too old to perform?"
The troupe is one of the oldest in the province-it was founded in 1954-and has a distinguished history, but it is hard to see it continuing.
The county government booked the troupe to perform for three nights over the Spring Festival holiday for a fee of 20,000 yuan ($3,220), "the most generous offer we received over the past year," according to Ma.
However, there were not enough actors and actresses to stage a full play. In order to reach the required show length of two-and-a-half hours, scenes requiring small casts from a number of plays were performed.
Troupes in the neighboring counties of Lingshou and Xingtang closed down 20 years ago. The struggle to survive is not only a problem for subsidized county troupes, but is widespread in cities and private troupes.
Jia Zhansheng, a senior researcher at the provincial government's culture bureau, said, "It's time to pay more attention local opera."