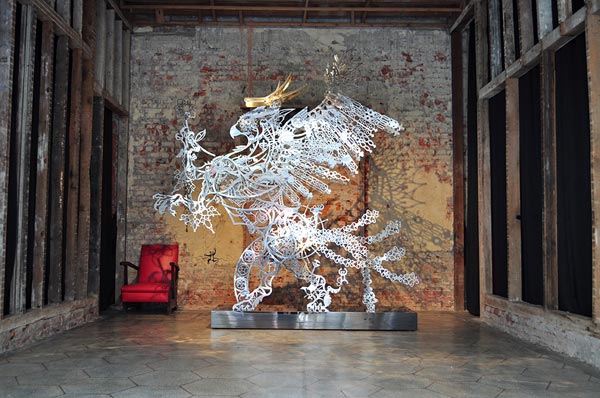 Plato's Carriage of Soul is one of Taiwan artist Hsi Shih-pin's metallic sculptures displayed at his first solo show in Beijing. Photo provided to China Daily
Hsi Shih-pin, a Taipei-based artist, uses metals and calculations in his sculptures to depict the universe in its many dimensions.
A typical project for him involves first designing the blueprint on the computer and then getting a factory to make the components of his design before putting them together in his studio. He usually creates six pieces a year.
Now on display in Beijing is Circus Maximus, his first solo show, with 13 sculptures.
"Everyone was designing buildings or making models, while I was fascinated by the metallic scraps left at a construction site near the campus," he says of his time in college.
Although he started a degree in mathematics, Hsi switched to architecture within two years. He collected steel scraps from construction sites and produced his graduation piece.
He then pursued a master's degree in sculpture from the Taipei National University of the Arts.
Hsi has studied the architecture of ancient Rome and the European Renaissance period.
"I was interested in the multiple roles of many artists during the two periods, who also worked as architects and extended their influence to the realm of theology," he says, adding that he researched the works of Da Vinci and Michelangelo in particular.
In Plato's Carriage of Soul, a 5-meter sculpture being presented at the Beijing show, Hsi visualizes the Greek philosopher's Chariot Allegory.
His use of stainless steel with a coating of titanium plating makes his sculptures look both sharp and stiff. In his creations, animals such as the lion, tiger and bear, symbolize the male form.
He has also made many of his pieces pointed at the edges, a technique that both draws in and scares viewers of his work.