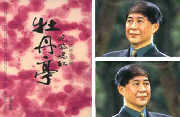 Kunquopera, boasting a history of over 600 years, is a combination of beautiful music, dance, and literature. Having been continuously refined for over 400 years, the opera represents the aesthetic pinnacle of Chinese performance art. Despite its past glory and the government's efforts in trying to preserve the art, however,Kunquopera has been going downhill over the recent years.
On May 18, 2001, ChineseKunquopera was listed on top of the first UNESCO's 19 "Oral and Intangible Heritages of Humanity," greatly encouraging Bai. From then on, he has shouldered the responsibility of invigorating the art ofKunquopera.
For this reason, he accepted speech invitations from Hong Kong University and the Hong Kong Culture Promotion Center, delivering four lectures onKunquopera to the students and common people. The young people's love for the art inspired him to produce the youth-version Peony Pavilion.
Bai's eminent achievements in literature and illustrious family background helped a lot during the process of producing the youth-version Peony Pavilion, without his consistent resolution and efforts, the project would not had been so successful.
As a result of his promotion ofKunquopera on the campus, more and more young people have become acquainted with and have begun to love the traditional art. His efforts might ultimately reverse the fate of Kunqu opera, an excellent oral and intangible heritage of humanity.
Author: Jessie