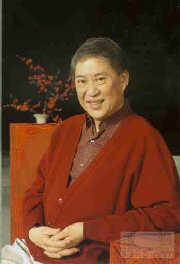 In 1963, two years after his graduation from university, Bai went to the United States for research with the Writers Studio of Iowa University, and received a master's degree two years later. Since then, he has taught at California University.
He has published a number of books, including several short story collections in the magazines Lonely Seventeen, Taipei People, and the New Yorker, a prose collection titled Mo Ran Hui Shou, and a long novel called Nie Zi (Unfilial Son), and so on. Through combining modern western writing skills of modern western literature and traditional Chinese expressions, Bai portrays the stories and lives of those people in a transitional period; hence his literary works are filled with historical ups and downs as well as the vicissitudes of life.
Bai took fancy toKunquopera when he was still a small boy, and his novel Waking From a Dream (You Yuan Jing Meng) is an inspiration from Peony Pavilion. Passionately devoted toKunquopera, he has volunteered in promoting the opera for more than twenty years.
In recent years, he has relentlessly worked in introducing the art to the young generation by cooperating withKunquartists in Hong Kong and Taiwan and delivering lectures. To produce a youth-version of Peony Pavilion has long been one of his dreams: In 2004, his dream finally came true.

 Inextricable Guilin Complex
Bai's uncommon life experience and emotional world molded his particular personality. Any one who is acquainted with contemporary Chinese literature knows very well Bai's position in contemporary Chinese literature, especially in contemporary Taiwanese literature. However, Bai Xianyong's literary works, his interests and hobbies, his language, and his thoughts are all inseparable from Guilin, his birthplace. Bai has always embraced an inextricable Guilin complex.
Though Bai lived in Guilin for only seven years, he can speak real authentic Guilin dialect and has employed the dialect in many of his novels, imparting a unique flavor to his works. One of his novels is titled Grand ma Jin, which to the locals is imbued with a touch of Guilin flavor.
Bai Xiongyong is also a lover of Guilin rice noodles. As he recalls, once when his father came back from a battle, the first thing he did was to have a bowl of hot rice noodles. Later, when living in Nanjing and Shanghai, Bai's family also invited people to cook Guilin rice noodles. After moving to Taipei, however, Bai seldom had the chance to enjoy the rice noodles. In one of his famous novels, Bai vividly related the story about rice noodles.