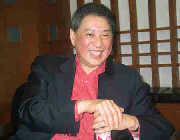 "My career is writing short stories, but my passion is Kunquopera." These are the words of Bai Xianyong, one of modern Chinese literature's most famous short storywriters as well as a literature professor who recently turned to a new project --Kunquopera.
The youth-version PeonyPavilionhe worked out with first-class creativity designers from Chinese mainland,Hong KongSpecial Administrative Region, and China'sTaiwanProvince has been staged in Taiwan, Hong Kong,Suzhou(East China'sJiangsu Province),Beijing, andShanghai, attracting large crowds of young people wherever it goes.
Peony Pavilion, like West Chamber andA Dream of Red Mansions
, is another pinnacle of Chinese romantic literature. Famed for its elegant lyrics and beautiful melodies, the play has been a classic repertoire ofKunquopera. The widespread popularity of Peony Pavilion has given a boost to the once depressedKunquopera, which is inseparable from Bai Xianyong's continuous efforts.
Aiming to endear more people to the charm ofKunquopera, Bai, a self-claimed lifelong devotee ofKunquopera, devoted enormous time and money to forge the youth version, which has been staged on many campuses, attracting large crowds of young people in each place. As Bai said, he hopes those who watch the opera will become promoters ofKunquopera by producing Kunqu operas on their own, or at least by supporting and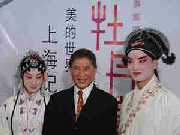 following the opera.

 A Brief Introduction of Bai Xianyong
Bai Xianyong, a contemporary writer, was born in 1937 inGuilinof South China'sGuangxiZhuang Autonomous Region. The son of Bai Chongxi, a general of the Kuo Min Tang, Bai spent his childhood in Southwest China'sChongqingMunicipality, and later moved with his parents to live inNanjing(Jiangsu), Hong Kong, and finally Taiwan.
After graduating from Taipei Chien Kuo High School, Bai entered Tainan Cheng Kung University and a year later, began his studies at the Foreign Language Department of Taiwan University.