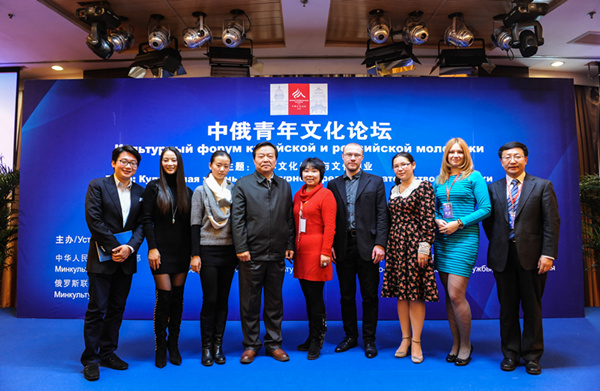 The attendees of the Sino-Russia Youth Culture Forum take a group photo. [Photo by Li Yan/ Provided to Chinaculture.org]
S.A.Cherednichenko, a literary critic and writer from Russia, also called for more cross-national cooperation in literature and promotion in translation work, which would enhance mutual understanding between young people from two sides.
"Looking into the East is a trend of development for Russia now", Cherednichenko said, and that cultural exchange in the younger generations of the two countries would help solidify Sino-Russian relations.
The forum passed the "Sino-Russia Youth Culture Initiative", appealing for the young to pay close attention to the culture industry of the other country, deepen communication between the two sides and explore new opportunities and modes of cultural and business cooperation.
The second Sino-Russian Cultural Forum was held in Beijing from November 27 to 29. Over 50 experts, scholars and entrepreneurs from the two countries were present.