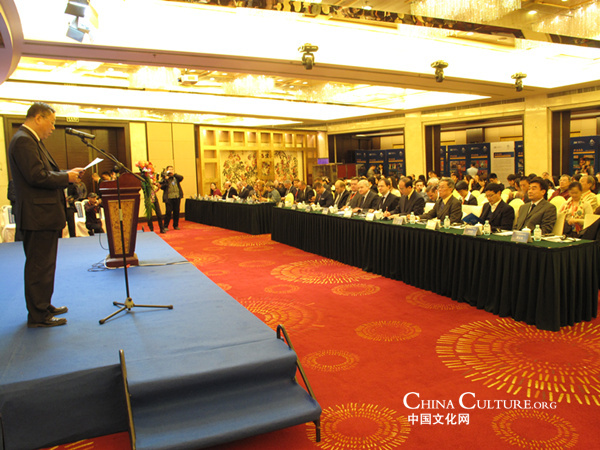 The second Sino-Russian Cultural Forum kicks off in Beijing.[Photo by He Keyao/Chinaculture.org]
Young representatives and scholars from culture circles in China and Russia made a joint call in Beijing to young peoples from both countries and around the world to enhance dialogue and mutual understanding through cultural exchange and cooperation.
With the sub-theme "cultural life and entrepreneurship of youth", representatives from both sides discussed and explored issues of contemporary cultural exchange of China and Russia's younger generations, cultural consumption and art life, and also shared their business experience in the cultural industry on the second day of the annual Sino-Russian Cultural Forum.
"Now that cultural exchange has been given great importance by the authorities from the two sides, it is already put on a national strategic level." said Feng Yujun, head of the Institute of Russian Studies of China Institute of Contemporary International Relations (CICIR). Feng pointed out that the younger generation will pay an increasing role in deepening the comprehensive strategic partnership between China and Russia.
Culture is not only an advantage for a nation, but a fortune for the world, stressed A.E.Shustova, a Russian specialist in exhibitions at the All Russian Museum of Decorative-Applied and Folk Arts. Shustova suggested China and Russia should advance their own traditional cultures under fast economic growth. She advocated more communication on culture relics between the two countries, which would generate new ideas and increase creativity for culture industries.