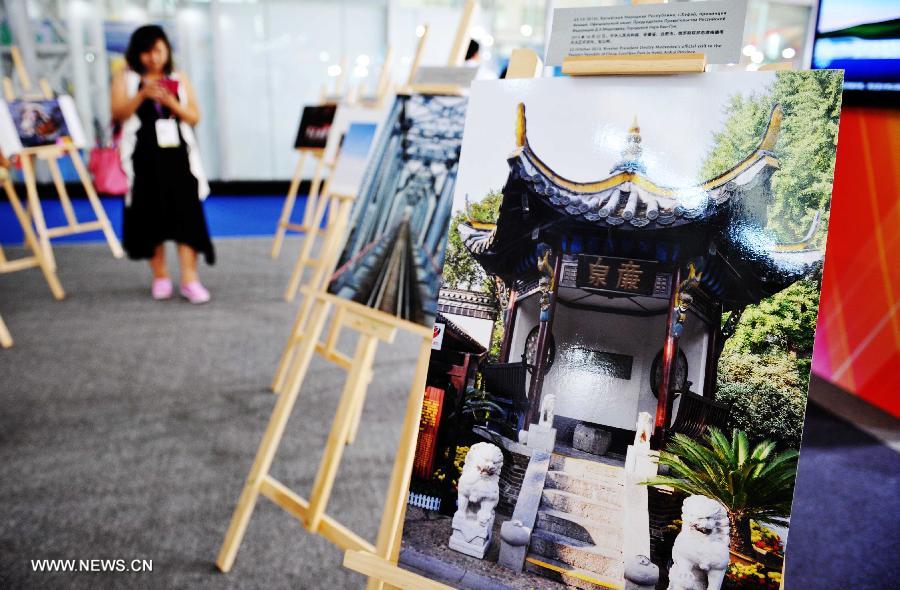 Photo taken by Russian Prime Minister Dmitry Medvedev are shown on display at the China-Russia Expo (CR Expo) in Harbin, capital of northeast China's Heilongjiang Province, June 30, 2014. The expo, which kicked off on June 30, will last until July 4. (Xinhua/Wang Jianwei)
As an important part of the 1st China-Russia Expo, Promotion and Signing Convention on Key Culture Industry Programs sponsored by the CPC Heilongjiang Provincial Committee and the People's Government of Heilongjiang Province was held on July 1, 2014. 32 contracts, totaling 11.8 billion RMB, were signed with regard to publishing and press, news and media, digital content, animation and video games, to name a few, all of which exemplify the advantages and achievements of Heilongjiang's culture industry.
The 1st China-Russia Expo held in Harbin from June 29 to July 4 featured a special culture industry exhibition, including China-Russia Trade Sector, Longjiang Brand Sector, Fashion Industry Promotion Sector, Key Programs Release Sector and Culture and Art Performance Sector that emphasized cooperative elements within Sino-Russian cultural exchanges. More than 150 cultural institutions and businesses from Heilongjiang province and Russia took part in the Expo. Some 600 pictures, over 1,200 exhibitions, and paper-cuts by the famous art craftsman Fu Zuoren, sculptures by Liu Bing, and art works by well-known painters such as Yu Zhixue, Lu Yushun and Wu Tuanliang were all on display.
It is worth-noting that 10-odd photographs of Russian Prime Minister Dmitry Medvedev were exhibited at the China-Russia Expo on July 1. The photographs were shot during his visits around Russia and other countries, featuring personal events, natural scenery, history and culture.
We Recommend: