Time of great passion (1985-1989)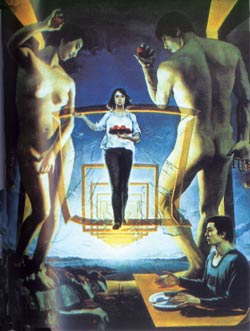 In the mid-1980s, Western Culture and art poured into China, exerting great influence on Chinese oil painting. It provided opportunities for Chinese painters to absorb new skills from Western paintings. Some young painters showed great interest in modern Western painting schools and started to imitate their styles, establishing a painting trend called the '85 New Trend (because the trend was most popular in 1985).
Representative figures: Zhang Qun ,Meng Luding, Li Shan, Zhang Xiaogang, Wang Xuhui, Wang Guangyi, Jin Shangyi.
Representative work: Zhang Qun and Meng Luding's " Enlightenment of Adam andEve in the New Age, " which is the most remarkable work combining symbolism and Western Surrealism

  Rapid development (1900-2000)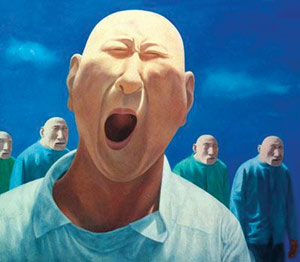 The Reform and Opening up Policy brought a historical transition to China, and also celebrated the development of oil painting. Artists began to high on explaining the innermost feelings and strive for changing. During those 10 years, emerged many new painting styles, such as a political pope, cynical realism, colorful vulgar art, new expressionism and others.
Representative figures: Wang Guangyi, Zhang Xiaogang, Fang Lijun, Liu Xiaodong, Feng Zhengjie, Shang Yang, Shi Chong.
Representative work: Fang Lijun's "Large Head Series"

  Future of Chinese oil painting
In the five years of the new century, a generation born around the 1980s began to appear in art circles. At the same time many Chinese artists were seeking a harmonious blend of east and west, as well as the classical and modern. They tried their best to create a kind of Chinese oil painting with a spirit of local color and age.