Entering the 20th century, cultural differences between China and the West were dramatic. Chinese art  had to make a gradual transformation from its classical form to a modern artistic medium.
During the past century, generations of Chinese artists exerted their utmost efforts to transform art from ancient Chinese civilizations into modern works. And then a new cultural factor -- oil painting -- entered China's art family, providing a new appearance to artistic works, growing into an indispensable artistic flower.
The difficult rough course running throughout the years exhausted five generations of painters' painstaking efforts, composing a solemn and stirring symphony in oils.

  First stage in the Qing and Ming Dynasty(1542AD- 1899AD)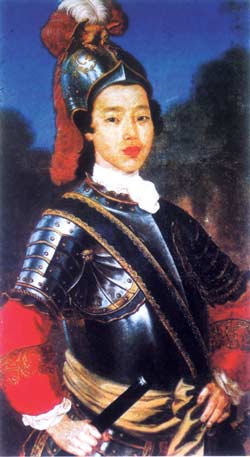 Churchmen brought oil painting to China from the West during the Ming and Qing dynasties.
Representative figure: Giuseppe Castiglione ( Lang Shining in Chinese), an Italian Jesuit missionary who came to Beijing as a missionary became royal chief artist in Kang Xi's reign of the Qing Dynasty.
Representative work: " Xiang Fei Rong Zhuang Tu" (Painting of Xiang Fei in military uniform, made in the 1920s or 1930s).