Oil painting during the Cultural Revolution (1966-1976)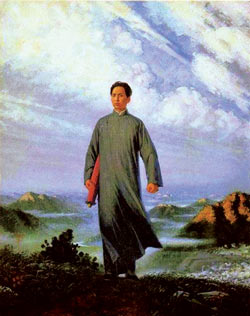 As the Cultural Revolution swept the country, Chinese oil paintings and other arts came under an unprecedented attack. Oil painting became a kind of political mark.
During that time all kinds of Mao Zedong's images as well as the praise of heroes became the main themes of each kind of artistic works.
However, even their authors could not think, after several years, those kinds of works became the main source for " political pope picture" and stepped onto the international painting world.
Representative figures: Liu Chunhua, Tang Xiaohe, Tang Xiaoming and Chen Yifei.
Representative work: "Chairman Mao Goes to Anyuan" by Liu Chunhua in 1967

  Stretching and Transition (1977-1984)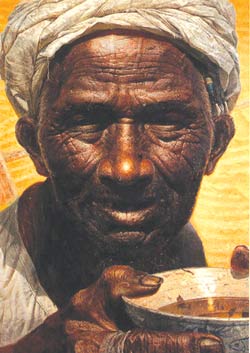 Coming out of the shadows of the Cultural Revolution, oil painting started to divorce itself from the fetters of politics and explored a new form of beauty.
It entered a new stage in the 1980s. Painting styles changed dramatically under the influence of the reform and opening policy. Vigorous young painters created some realist works such as "Father" and the group painting, "Tibetans."
Representative figures: Chen Yifei, Cheng Conglin, Luo Zhongli, Chen Danqing,He Duoling, Ding Fang and Shang Yang.
Representative works: Luo Zhongli's "Father," a milestone of rural portrait .