Introduction and Prevalence (1909-1949)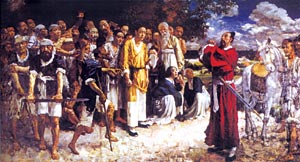 In the 1920s many Chinese students went abroad to study and formally brought oil painting back into China. The most well known among them are Li Shutong, Wu Dayu, Guan Liang, Xu Beihong, Li Tiefu, Liu Haisu, Lin Fengmian, Pan Yuliang, Zhu Yuanzhi Wu Zuoren, among others.
They introduced oil painting and spread modern paintings through education. From classical realism to the impressionist school, and various schools of modern art, the artistic etology grew throughout China.
Representative works: Xu Beihong's " Tian Heng Wu Bai Shi" (painted in 1929-1930)

  Rebuilding the Function of Art (1949-1966)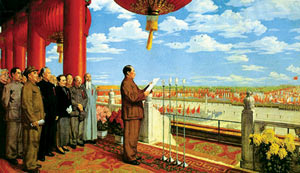 Experiencing a baptism of war and hardships, many Chinese oil painters turned to historical subjects with the support of the central government and cultural departments. Realistic Chinese drawing grew and matured.
Representative figures: Wu Zuoren, Wang Shikuo, Luo Gongliu, Dong Xiwen and Wu Guanzhong.

Representative work: " The Founding Ceremony of China" by Dong Xiwen.