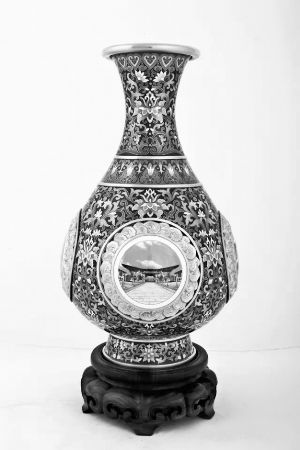 Cloisonné bottle
Replicas of gifts given by China to APEC economic leaders went on sale on 14th Nov. The cloisonné bottle Chinese President Xi Jinping offered to his counterparts, the exquisite handbag and fruit plate with silver silk scarf Chinese first lady Peng Liyuan gave to female leaders and female sponsors are available both in store and online, with a limit of 8,000 items.
Unlike the past when national presents remained secret, the items, precious gifts for foreign guests, are available to the public for the first time.
According to the Gongmei store in Wangfujing, slight changes have been made to the designs in order to make the items more practical in daily life.
For example, embroidered silk scarves originally designed to go with the handbag are replaced by silk print scarves with rich colors, more suitable for everyday ware.
The price of the cloisonné bottle and handbag are 39,800 yuan each while the fruit plate with silver silk scarf sells for 99,800 yuan.
The items are available in Gongmei stores at Deshengmen and Gongfujing in Beijing, gmecity.com and the online store of Gongmei on the Suning E-commerce website.
We Recommend: