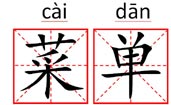 Traditional Beijing local delicacies have been listed on the menu of the APEC China National Convention Center venue, the Beijing Youth Daily reported.
北京青年报报道:记者探访亚太经合组织(APEC)会议(三大会场之一的)国家会议中心发现,传统北京小吃被列入了菜单。
Eleven kinds of Beijing traditional snacks(传统小吃) will serve to summit(峰会) attendees(出席者), such as Royal Wotou (Steamed Corn Bun)(宫廷小窝头), Bingtanghulu (crispy sugar-coated haws on a stick)(冰糖葫芦), Yundoujuan (kidney bean roll)(芸豆卷), Wandouhuang (Beijing sweet peas pudding)(豌豆黄), Lvdagunr (Glutinous Rice Rolls with Sweet Bean Flour)(驴打滚). In addition, representative dishes from five continents(五大洲代表菜) in the world are on the menu(菜单), includes Russia's beef goulash(俄式烩牛肉), American chicken salad(美式鸡肉沙拉), fruits from Australia(澳洲水果), Singapore's laksa(新加坡香辣米粉), dumplings from north China(北方水饺), Beggar Chicken from south China(南方叫花鸡), along with Shandong pancakes(山东煎饼). During the APEC meeting this year, 142 meals will be available at the China National Convention Center, which is expected to serve to about 73,000 people during the event.
Related Words:
•cài dān 菜单 menu •zì zhù cān 自助餐 buffet •chá xiē 茶歇 tea break •zhuō cān 桌餐 dinner served at tables •chú fáng 厨房 kitchen •chú shī 厨师 chef •xiǎo chī 小吃 snack
豌豆黄 Wandouhuang (Beijing sweet peas pudding) [Photo: baidu.com]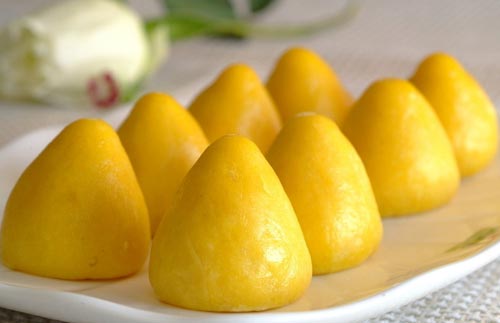 宫廷小窝头 Royal Wotou (Steamed Corn Bun) [Photo: baidu.com]