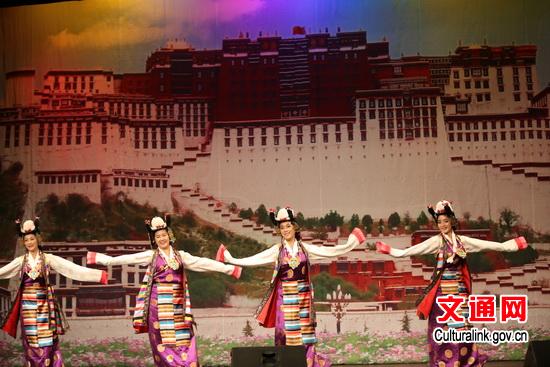 Actresses of the Tibetan art troupe performed on stage.[Photo/culturalink.gov.cn]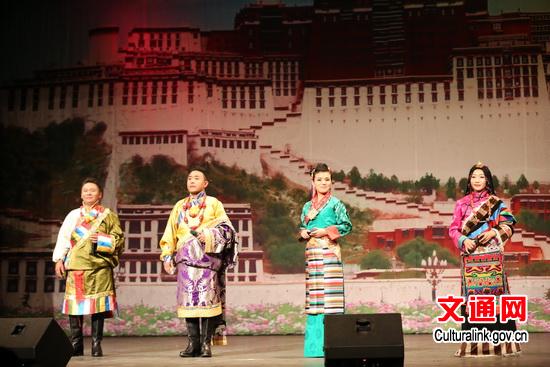 Actors of the Tibetan art troupe performed on stage.[Photo/culturalink.gov.cn]
A Tibetan art troupe made its debut in Harare, the capital of Zimbabwe, on Oct 24. Actors, dressed in traditional costumes, brought unique Tibetan culture to Africa for the first time. Lin Lin, the Chinese ambassador to Zimbabwe, Tabeth Malinga, deputy minister of Sports, Arts and Culture in Zimbabwe, envoys and local residents attended the performance.
The performance, titled Tibet-Tashi Delek, provided unique art forms, both traditional and modern, to the audience.
The performance was widely acclaimed in Zimbabwe. The Deputy Minister of Sports, Arts and Culture in Zimbabwe, Tabeth Malinga, said that the Tibetan performance was great and the artists were all talented. Tibetan art is similar to that of Zimbabwe, even though these places are far apart from each other in geographic terms. Tibetan music features a fast beat and rhythm that is somewhat similar to Zimbabwean songs. It struck a chord in the hearts of the African people. Such activities of cultural exchange should be held regularly to let more Zimbabwean people understand Chinese art and culture. Chinese ambassador Lin Lin highly praised the performance and said such an event is of great help to promote understanding between locals and Tibet.
This performance was hosted by the Chinese Ministry of Culture and the Chinese Embassy in Zimbabwe and orgazined by Tibet Department of Culture. This event aimed to bridge the friendship between the two peoples and was of great significance in China-Zimbabwe cultural exchange.
We recommend: